A - B - C - DE - F - G - H - JKL - M - NOP - QR - S - TUV - WXYZ
Click here for BDHS '65 Bulletin Board
Back to the home page.
---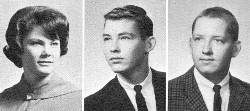 ---
---
---
---
---
---
---

Wagnor, Deborah Mundell

Waites, James (2000)
4844 W. Markwood Ave
Indianapolis, IN 46221
317.856.3788
waites@bmwcnstrs.com
BMW Constructors, Project Supervisor
Married Linda Matlock
They have four children:
James Wayman (1968): Graduate of Ball State, married, one child, works for Acorn Paper Products
Thomas Harvey (1971): Graduate of Purdue University, married, two children, owns Lastec Construction, LLC
Cindy Diane Waites Pfost (1973): Graduate of Indiana University, Masters Degree from Ball State University, married Travis Pfost (son of Linda Layton Pfost '65), two children, works for Eli Lilly Federal Credit Union
Samuel Chess (1980): works for Damar Home
(Submitted by their daughter Cindy)

Waites, Wayman E. (2000)
5006 W. LeGrande Ave
Indianapolis, IN 46241
Fireman, City of Indianapolis, for over 30 years.
Married to Patricia Coonfield Waites. Two sons, Dennis Wayne and Thomas Edward.
---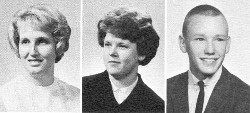 ---
---
---
---
---
---
---
Walker, Barbara Hanka (2003)
7323 Wheaton
Canton, MI 48187
734.455.2539
rb_hanka@yahoo.com
Credit Union, Assistant Branch Manager
Walker, Brenda Parrott (2000)
12919 N. Crescent Court
Camby, IN 46113-8423
317.831.2193
Married Don Parrott
Retired, homemaker
Wallace, Jerry (2001)
830 E. Stop 11 Rd
Indianapolis, IN 46227
317.887.6680
jerrywallace@comcast.net
Ray Skillman Olds-GMC, Sales
---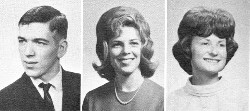 ---
---
---
---
---
---
---
Wallace, Robert L. (2005)
2835 Maywood Rd
Indianapolis, IN 46241
317.247.9024
robert.wallace@in.ngb.army.mil
Retired from Indiana Natl Guard.
Marines 65-68 (tour in Viet Nam), Married 1969 (still-32 years this August), Ball State 70-74 (BS in Marketing), twin boys in 1974.
Managed a wholesale warehouse and small grocery 1974-1978, Supervisor in a foundry 1978-1982, CUB Foods grocery manager 1982-1988, Full Time National Guard 1988-2005.
I still live 1 mile from where I grew up while going to BD.
In school I frequented the Parkeat, Tee-Pee, Poles, and typical root beer stands, but that was just to show off my girl and car. Of course I worked 45 hour work weeks during my last two years at Ben Davis.
And no divorce, how fortunate I have been. By the way I did not marry my high school sweetheart, I met a gal who was from KY (Margie) and it has been great.
I have very little contact with anyone from the class of 65. I did bowl a few years with Steve Pemberton and Lee Huff. I coached Little League back in the 70's and 80's and ran across several classmates through the South Wayne Little League.
Love to vacation. Over 20 trips to see Mickey in Orlando, Vegas is the second-best vacation spot, and Branson and Niagra Falls are tied for third place.
I love country music, still have 45s and albums from the sixties and seventies.
Walton, Cindi Margason (2001)
1455 Normandie Dr
Avon, IN 46123
317.272.2262
Preschool teacher
We have three married sons, four grandsons, and--after seven generations--three granddaughters.
I am happy to say I have now visited all 50 states, plus England, Canada, and the Islands.
I enjoy sewing for my grandchildren, making drapes for my family, and all needlework crafts.
Wand, Connie Richie
Deceased. Died September 1, 2018.
Obituary: https://www.legacy.com/obituaries/thepilotnews/obituary.aspx?n=constance-d-richie-connie&pid=190152883&fhid=8845
---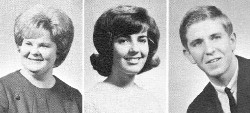 ---
---
---
---
---
---
---
Wand, Linda
Warren, Kathie
Wasson, Bob (2001)
Joined USAF after high school as a Security Policeman. Worked at scrap yard after the Air Force.
---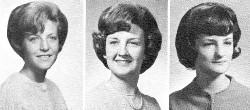 ---
---
---
---
---
---
---
Watkins, Marilyn McClellan (2005)
6476 S. Raceway
Camby, IN 46113
317.856.5951
marekay47@wmconnect.com
Wal-Mart in Plainfield for 16 years.
I have been married for 38 years to Melvin (Decatur High class of '63 ) and have a daughter, Laura 32 and a son Shelby 30. I have 2 grandsons, Wesley 14 and Aaron 12.
I will probably be working at the Plainfield Wal-Mart another year and then retire. I Like my job in Personnel and met a lot of nice people over the years but I do look forward to being able to retire.
My husband and I love to take trips in our '46 Buick so whenever he retires we will probably get to do more traveling. I have a '65 Mustang that I drive once in a while and that is lots of fun. I pretend like people are looking at me and not the car; that makes me feel good. Ha!
Watkins, Penelope
Killed while providing assistance to a disabled car.
Weatherford, Marilyn Carty (2007)
844 Wallbridge Dr.
Indianapolis, IN 46241
317.241.5236
As per Dale Fox
---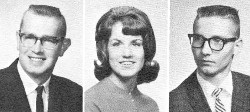 ---
---
---
---
---
---
---
Weekly, Kenneth L.
Kenneth died from complications of kidney failure and congestive heart failure on September 15, 2001. He was an accountant for many years, and retired when he developed kidney problems. From his friend Suzi Robbins:
My husband met Ken in 1971. Ken was single, and we started inviting him to our home for meals, and a friendship more like family evolved.
I still am having trouble dealing with his passing, but I know he is happy now. He was so weak at the end, and I count it a blessing that my husband and I were able to take care of him til the end. We have two grandsons....and they called him Papaw Ken.
Let me say this about Ken....if you ever needed help he was right there. You never had to ask for anything. Ken was the kind of friend that some people only wish they had. To us, he was family. He and his brother Paul...(66 grad) lived together until Paul died in 1989 of AIDS. Ken took care of him to the very end..
Ken's other brothers were a lot older, and had their own families so we were lucky to get Ken.
Ken never did marry. He lived alone with his dog Beau. He was an accountant until he became ill in 1997.
The Dr gave him only 2 yrs at the max to live, but his will to live was strong, and he lived to 2001.
Wendel, Gayle Pfeifer (2008)
Danville, Indiana
317.379.2900 (cell)
gpfeifer@tds.net
26 years, Eli Lilly and Co, plan on retiring November 2009 (Quality Control/EIS Technology)
12 years, Indiana Bell
2 years, Contract Teaching Wayne Township
2 years, technology consultant, Grad IUPUI BS Secondary Ed.
I have two children: Thomas Alan MacIntosh (34), and Jacqlyn (23). Neither married, no grandchildren.
Married Ricky D. Pfeifer (24 years)
Westenbarger, Paul R. (2001)
8610 W Washington St
Indianapolis, IN
317.241.7278
Runs his own lawn mower shop. Married a Decatur girl soon after high school; divorced.
Worked 23 years at Allison's, owned property rentals. Raced motorcycles; national ranking in late 70's.
Wernke, Michael (junior picture) (2005)
875 Columbia Ct
Avon, IN 46123

---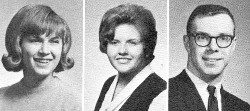 ---
---
---
---
---
---
---
Westfall, Susan
Wheeler, Karen Brown (2000) (that's her on the right, too)
Indianapolis, IN 46221
kbrown4461@aol.com
Senior Property Manager (22 1/2 years) for PGPM, Inc., a firm specializing in multifamily community management. My husband Darrel and I will soon be celebrating our 34th wedding anniversary. We have two wonderful children (almost middle-aged adults), Anthony and Trudi. We also enjoy the company of our six year old grandson, Damon.
Darrel has retired from Rexnord...so we are now taking the time to smell the roses. I hope all of you are also.
I would love to hear from any of you. Here is a toast to the class of 65! You definitely were a "class" act!
Wheet, Richard A. (2001)
7270 Hollingsworth Dr
Indianapolis, IN 46268
317.293.1796
31 years at Allison, now working in transmissions division.
Two daughters: Carrie (23) and Nicole (25).
I enjoy golf and snow skiing.
---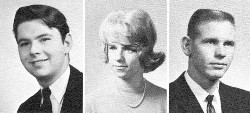 ---
---
---
---
---
---
---
Wherry, Dwayne (2001)
5133 W Southern Ave
Indianapolis, IN
317.241.3765
Whiten, Carol Dolder (2000)
527 S. Woodrow Ave
Indianapolis, IN 46241
317.243.7275
winssail@aol.com
Admininstrative Assistant, Indiana Association for the Education of Young Children.
I finally graduated from college in 1999! (I actually started in Sept. of '65!)
In between times, I bought and managed a beauty school for 4 years, doing okay, then took on a partner and bought 2 more beauty schools. After a total of 9 years, we lost the entire business! That was NOT a good time!
Now I work for I.A.E.Y.C.(Indiana Assoc. for the Education of Young Children). We give scholarships to adults who want their education in Early Childhood. I'm an Administrative Assistant and like the job.
Things I like to do in my spare time are: reading, sailing, cooking, and snow skiing. My husband and I have a 22-foot sailboat on Eagle Creek, here in Indianapolis. And, we often take vacations to charter larger sailboats.
Whittaker, William
---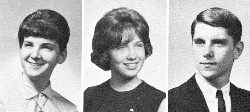 ---
---
---
---
---
---
---
Williamson, Nancy
Wills, Christina
Willis, Raymond W.
Died of lung cancer, June 3, 1998
---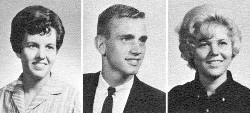 ---
---
---
---
---
---
---
Wilson, Nancy Sharp (2002)
nasharp@iupui.edu
After h.s., got married same year. Was married 21 years, had 2 sons by that marriage,-Eric Wayne Miller(34) and Curtis Todd Miller(31).
Divorced and re-married,...have a daughter Sarah Marie who is 15, have been single since she was 2 years old. Work at IUPUI, Adult Psychiatry Department for a doctor, and am the administrative secretary for the unit.
Wilson, Rick (2002)
2502 S. East St
Indianapolis, IN 46225
317.276.2527
rickwilson01@hotmail.com
Hello to all. Wanted you to know that I still look just like the picture in the yearbook. (See photo at left, above). I didn't grow up in the Ben Davis area so only can remember a few of the pictures. I think I still have my yearbook. Carried it around all these years. I came to Ben Davis my junior year. From Tech High School in Indianapolis.
Shortly after graduation I went to work at Indiana Bell. From there to the Air Force. Then back to the Phone company. Retired from there in 1996. Living in Bloomington In now. Have one grown son in Phoenix and a daughter ready for med school. Also a daughter in her senior year at IU. Best Wishes to all.
Wilson, Sharon
---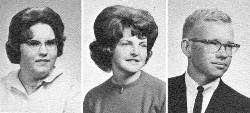 ---
---
---
---
---
---
---

Wise, Ed (junior photo) (2004)
edwise47@hotmail.com

Winterrowd, Peggy

Wittenmyer, Robert (no photo) (Not a BDHS grad - read bio) (2008)
1010 N. 20th St
Lafayette, IN 47904
765.838.1285 (home)
317-403.0499 (cell)
bob.wittenmyer@comcast.net
I went to BD 2 years before moving to Decatur Township. After I found this BB on the internet and posted on it a few times I became an honorary member. It has really been great reconnecting with all of you. Finding where all of you live and what you do or have done over these 40 some years. After high school I worked at Allison Transmission in Speedway for 31 years, retiring 7-1-1997. I have step-kids scattered here and yonder and grandkids the same way from a previous marriage. I've lived here in Lafayette with my wife Brenda for almost 3 years. We met on the internet. Brenda works at Purdue University in the Library System.

Wooden, Sandra

Woodlock, Jack (no photo) (2007)
217.331.6552
jack.woodlock@bright-ideas.org
I was a graduate of '65. I wasn't in the yearbook because my father would not buy my senior pictures. I made them myself in the print shop @ BD. They would not print my picture because the yearbook company didn't take them.
After high school and the military I worked for International Harvester for 14 1/2 years. Got into the restaurant/lounge business in 1980 until recently. I have worked for Bright Ideas in Broad Ripple since 1994. They are a promotional products/marketing company. Also have a heating and cooling company in Plainfield. Expert Air.
Not married.
Live in Carmel.

Workman, Dale (2000)
323 Maxwell Rd.
Indianapolis, IN 46217
317.783.9717
drworkman@earthlink.net
"Dale is a Patternmaker at a small company in Beech Grove; his wife's name is Donna." (From Jerry Neal).
---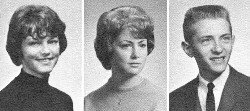 ---
---
---
---
---
---
---

Wright, Sharon Beasley (2005)
6128 Bobby Jones Ct
The Fairways of Imperial Lakewoods
Palmetto, FL 34221-6626
beas107ret@verizon.net
Husband Ron Beasley, BDHS '59
We have four grown children, 32 to 42, and eight grandchildren, 2 to 21.
I worked for an insurance company in downtown Indianapolis after I graduted from BDHS, then I got married and went to Hawaii. Had my first child there, got divorced, and worked for an airline. Married again, this time to a great guy (and still my husband), Ron.
Ron was with the Marion County Sheriff's Department (Deputy Sheriff Road Sergeant and Detective of Homicide and Burglary for over 33 years). He also worked at Sears Hardware in Avon for another 5 1/2 years waiting for me to retire. I worked for Alegheny / USAir / USAirways (all the same) for 33 years. We're both retired now and have lived in Florida for five years.
Hope to be able to make it to the picnic!

Younts, Pamela Smoot (1995)
Lost; last known address:
109 Sea Oats Dr
Panama City Beach, FL 32413
Musgrove Florist, Floral Designer

Zalokar, Donald (2002)
6141 Fox Ct
Pendleton, IN 46064
765.778.8294
pujam2@aol.com
Owns a water softener company in Anderson, has a weekly radio talk show on WHBU (1240 am).

Zeigler, Joyce Anderson (sophomore photo) (2006)
1419 Sudden Valley
Bellingham, WA 98229
360.738.7321, ext 393
janderson@cob.org
Married Roy Anderson
It's wonderful checking out all that's going on on your website. It's great!! We married in Jan of '65 and have 5 children, 15 grandchildren with a blending of 4 more this July. Life is good! Roy is retired with new knees and I'm a clerk in the Municipal court of Bellingham. Take care and keep up the good work!! We'd love to hear from anyone who remembers us!

A - B - C - DE - F - G - H - JKL - M - NOP - QR - S - TUV - WXYZ

Back to the home page.