A - B - C - DE - F - G - H - JKL - M - NOP - QR - S - TUV - WXYZ
Click here for BDHS '65 BulletinBoard
Back to the home page.
---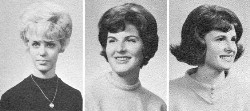 ---
---
---
---
---
---
Macey, Chris (no senior photo, but he sent this color picture, and next to that is his junior picture) (2003)
54 Elm Place
Red Bank, NJ 07701
732.741.5854
cjmacey@comcast.net
Serenely enjoying our completely renovated 1920's house (we were out for seven long months) in Red Bank, New Jersey. It was a sleepy town when we moved in 20 years ago, but now has been declared "The Hippest Town in New Jersey". After nearly 33 years of happy marriage, Pat and I have decided it must be permanent. Oldest daughter Emily is in a struggling Wall Street startup and working way too hard. Youngest daughter Kate is the tech writer at Open Reach, a communications security startup where I am the chief architect. Open Reach is also struggling, this year means success or failure. Just can't tell yet. No grandchildren or even marriages, but then we got started late and the daughters are still young.
MacDonald, Sharon
MacKinnon, Ellen Campbell (2002)
7903 N. 50 E
Shelbyville, IN 46176
317.835.4108
ejsmcamp@rock.com
My husband and I have lived in Shelby County for 21 years now. He retired from Ameritech and I left Amax Coal Co. in Indy and we are now working part-time in Shelbyville. I'm a church secretary and he works at Indiana Downs, the new horse racing track near Shelbyville. We don't miss the commute. We are helping raise our 10 year old granddaughter so there's never a dull moment. We also have two grandsons, 9 and 8 years old, that keep us hopping.
Magnabosco, Mary Shahidi
(2005)
28831 Winthrop Cir
Bonita Springs, FL 34134-3330
239.947.3305
---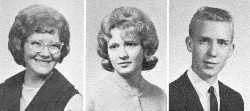 ---
---
---
---
---
---
---
Maines, Georgia Silvers (2002)
908 N. Eaton Ave
Indianapolis, IN 46219
317.897.7484
fsilvers@comcast.net
Indpls-Marion County Public Library
Majors, Phyllis Elliott (2000)
5545 E. 700 N
Brownsburg, IN 46112
317 852 8650
rpelliott12@sbcglobal.net
Been married for 35 years. I have two sons and three grandchildren. I worked at an in-home business for 25 years and am now semi-retired. I work part time as an agency sales rep for an insurance company. Leaves me lots of time for traveling and playing with the grandchildren.
Malicoat, David (2000)
4949 Cricklewood Lane
Charlotte, NC 28212
704.567.9575
dmalicoat@usa.com
http://www.dmalicoat.com/3ds.htm
The entire story of the Malicoat family can be found by clicking on their web site link--check it out!
---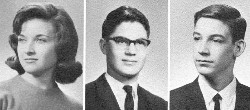 ---
---
---
---
---
---
---
Maners, Barbara Miller (2001)
6513 El Paso Dr
Indianapolis, IN
317.247.6120
brentdm@peoplepc.com
Husband Brent
I was an only child who always said I wanted at least 2 kids....and ended up with 5! Chris, Betsy and Mark are out of the nest. All are married. We still have 2 teenagers at home...Megan & Josh, who are at Covenant Christian High School.
As with many of our classmates, I remain a Westsider. I have a private counseling practice, specializing in marriage and family therapy. My husband, Brent, who is a minister, have formed a non-profit ministry, Rapha Restoration Ministries, Inc. "Rapha" is Hebrew for bringing out of distress, healing and restoration. We provide service to everyone, but we hope to reach people who would not normally be able to afford counseling, marriage conferences, parenting coaching, etc. They receive help free of charge.
Retirement doesn't look like it's in our picture, but life is exciting anyway! Blessings to all!
Mann, Darrell H.
Deceased. Died March 2, 2019.
Marion, Ronald C.
Marlett, Phillip (photo from junior year) (2005)
501 Mariwood Dr
Indianapolis, IN 46234
317.271.8256
babys4@aol.com
"This is Phillip Marlett; I did graduate in the class of 1965--I missed the photo session for our senior pictures."
---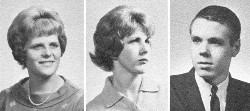 ---
---
---
---
---
---
Mascher, Permeitha
Massie, Sandra Hale (2004)
1952 Lyons Rd
Tompkinsville, KY 42167
270.457.3752
csahale@scrtc.com
That's Sandra on the right. She writes,
Chuck and I have now been married 20 years. What a blessing from God to find him!! (Is that ever a story!)Church is still a big part of our lives and we are still very active in it, although we have changed churches and denominations! Just a name over the door anyway.
I'm still working at Gamaliel Elementary, and Chuck has his own Radiator repair business. I think our jobs are secure in that there will always be schools and vehicles with radiators in them!
We now have a grand total of 10 grandkids, but not one close enough to see very often as our kids are scattered everywhere. Chuck lives in Fishers, IN. and works for the Lawrence Twnshp. Fire Dept. Scott is at Ft. Bragg, N.C. with 11 years in Uncle Sam's Army. He has done the Iraq thing and hopefully with his new position as a Load Master Instructor he won't have to go back. Sam is in Atlanta, GA. working for an large outdoor sign making company, and finally, Joe is now in Bradenton, Fl. working as an inspector for a large construction company. Amanda has graduated HS and now is trying to find her path in life. She is still at home.
If any one travels south give us a call. We are about 45 minutes east of exit 53 (Mammoth Cave Exit) on I65 South!
Matthews, Earl D.
---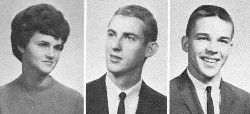 ---
---
---
---
---
---
---
Matlock, Linda Waites (2000)
4844 W. Markwood Ave
Indianapolis, IN 46221
317.856.3788
Rise-Perry Township, Transportation Supervisor
Real Estate Sales
Married Jim Waites
Director of Transportation at Pike Township Schools.
They have four children:
James Wayman (1968): Graduate of Ball State, married, one child, works for Acorn Paper Products
Thomas Harvey (1971): Graduate of Purdue University, married, two children, owns Lastec Construction, LLC
Cindy Diane Waites Pfost (1973): Graduate of Indiana University, Masters Degree from Ball State University, married Travis Pfost (son of Linda Layton Pfost '65), two children, works for Eli Lilly Federal Credit Union
Samuel Chess (1980): works for Damar Home
(Submitted by their daughter Cindy)
McCahan, Lawrence E. (2000)I think this is him:
1034 Rosner Dr
Indianapolis, IN 46224
317.244.1769

McCormick, Tim (2001)
505 Owens Farm Road
Crabapple GA 30004
hmccorm123@comcast.net
Retiring from UPS, Corporate Management, on Feb.8, 2002.
Looking forward to enjoying my hobbies (woodworking, building street rods, traveling).
Married for 26 years to Holly ( George Washington student). Combined family of 3 sons: Bill-37, Barry-35, Scott-29. 7 grandchildren ages 5 through 17.
---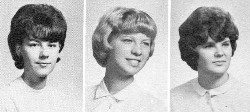 ---
---
---
---
---
---
---
McDaniel, John (2003)
This is his sophomore photo. He's not in our junior or senior yearboo, but Marla Fouch tells me he graduated with us.. Does anyone have any information about him?

McDonald, Jayne Thiesing (2003)
4710 Nantucket Lane
Orlando, FL 32808
407.295.9519
jeff1jayne@aol.com
I work for a benefits consulting firm, mostly in the public sector (school districts, city and county governments). I attended IU after graduation but, unfortunately, majored in partying (youth is wasted on the young...) Dropped out for a year and did that quintessential 60's thing -- bumming around Europe for three months. Came back and transferred to Old Dominion College in Virginia.
While home for summer break in '68, I met Jeff Thiesing (a west-side boy, but a '63 graduate of Latin School) on a blind date. Good-bye Old Dominion, hello Marriage. We married in April '69 and lived in Turkey until 1972, where our daughter was born in 1970, then spent a few years in Michigan, moving to Orlando in '78.
We have one daughter, Trilby Stevens, and an 11 year old granddaughter, Alyssa Jayne Burkert. Trilby is an accountant and is working on her MBA. Alyssa is a nationally-ranked age-group triathlete and has been competing in adult sprint triathlons since she was 9. She's also a competition swimmer and excels in duathlon.
Jeff works for the Florida Department of Juvenile Justice. We love to travel (we've been to Hawaii, Canada, Iceland, Europe, the Middle East, Africa, Mexico & the Caribbean) and go boating.
Please give us a call if you're ever in Orlando hitting the tourist spots -- we're in the book. I did go to the 30th reunion, but it was so dark in there, I'm not sure who I saw.... (well, my good friend Jack Daniels didn't help much...) I would love to hear from anyone.

Addendum: April 2006: Jeff, my husband and best friend of 37 years, died in February 2006 of an unexpected heart attack.  With the loving moral support of my family and friends, I'm just trying to get through this rough time and make sense of the fact that unspeakably bad people live on and my good, kind, and honorable husband is gone.  I've had wonderful visits here in March and April with Mike and Janet Linn,  Anna (Collins) and Steve Horrall, Diana Nunnery Bassetti and Larry Tackett.  I'll be staying here in Orlando at least another four years (can't leave my grandbaby 'til she goes off to college) and I've love to get together with anyone who might be passing through the area.   Like the TV commercial says: "Life comes at you fast..." and I have made a vow to stop procrastinating and get down to tracking down old friends and lost relatives before it's too late.
McGathey, Sally (2000)
Works for Marion County Sheriff's Dept, Indpls.
McGraw, Karen Reiche (2003)
Think this may be her:
7352 Travers Pl
Indianapolis, IN 46226
317.547.2034
Works at Anthem in Indianapolis
---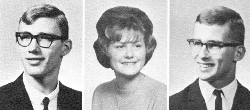 ---
---
---
---
---
---
---
McIntyre, Jerry D.
McIntyre, Kathy Corbett (2001)
4608 Bertha Street
Indianapolis, IN 46241
corbettkd@aol.com
I got married the same year I graduated to John Corbett and we're still married. We have four great children, two boys & two girls. We now have seven wonderful grandchildren (2 girls & 5 boys).
I worked in the building we graduated from for 19 years. Of course, it is now Ben Davis Junior High. I was the computer tech. I retired from there in June 2000 and went to work at FedEx for a year.
Now I'm loafing (and loving every minute of it). Still a westside girl and will probably stay a westside girl.
McKern, James E.
---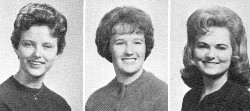 ---
---
---
---
---
---
---
McKern, Judith (2000)
1089 Norfolk Ct
Indianapolis, IN 46224
317.247.1292
Works at Conkle Funeral Home, owns a Maltese dog.
McSchooler, Judy Bolin (2002)
8650 Lighthorse Dr
Indianapolis, IN 46231
317.243.3820
judithbolin@sbcglobal.net
Judy has four children. Her first husband Rolla Allen (brother of Martha Allen) was killed in a train accident, and she is a"newlywed" of 3 1/2 years.
McWilliams, Betty
deceased
---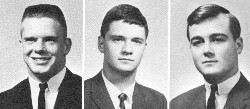 ---
---
---
---
---
---
---
Meadows, Peggy (2003)
Sophomore photo--not in our junior or senior books. Does anyone know if she graduated with our class?
McWilliams, Stephen (2000)
Deceased, died May 13, 2004, complications from cancer surgery.
Miles, James (2002)
2499 Landersdale
Camby, IN 46113
317.831.1897
jkmiles2@msn.com
Eli Lilly, Electrical Engineer
Married Marla Fouch
Miller, Bruce A.
Married Patti Rayman
---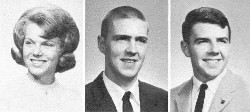 ---
---
---
---
---
---
---
Miller, Dottie Nixon (That's her on the left) (2002)
101 S. Calhoun St
South Whitley, IN 46787
260.723.5628
djmnixon@juno.com
Fox Products Corp, Accounting Manager for 14 years (they make woodwind instruments)
I have three sons: Tony, Troy, & Jonathan, and one grandson, Brent (12 years old).
My husband, Michael, is a teacher for the Plymouth School System. He is school coordinator at a behavioral hospital inPlymouth, Indiana.
I have an associate degree in Accounting and a BS in Business Administration.
Jonathan, Michael, and I are golfers. Michael is assistant golf coach at Grace College in Warsaw, Indiana. Jonathan played first spot on the Grace College team and was all-conference.
We are very active in our church in Warsaw and I have been a Sunday School teacher since 1978. We have been youth directors, camp counselors, and teachers in christian schools. We also worked at a group home for delinquent boys.
I attended Massillon Baptist College where Michael received his divinity degree and I took early childhood development classes at Indiana University where Michael received his teaching degree.
I am a breast cancer survivor of 10 years.
Miller, Jerry (2002)
1168 Adirondack Ct
Simi Valley, California 93065
805.577.1089
jerry@amgen.com
After Ben Davis, studied Mechanical Engineering Technology at Purdue for a few years; not for me. While I was in the Navy, I became interested in "living" systems. So, after the naval stint I obtained a B.S. in Wildlife Biology (and a minor in Ecology).
It was tough finding a job in 'renewable resources" so I bounced around. I finally ended up in neurobiology, where I have been for 23 years. I now work at Amgen, Inc., CA as a neurobiologist in the Dept. of Metabolic Disorders. Before Amgen, I worked at Duke University for 13 years as a research specialist and scientist in neurobiology.
Backpacking was a keen interest of mine for many years, but the pack seemed to get heavier each year,so I have nearly abandoned that endeavor. Now it's simply hiking with the cameras for nature and wildlife photography.
I am interested in all phases of natural history, particularly ornithology. I've been an avid birder for approximately 30 years, US and international.
I have a son, Zachariah, age 29, a daughter, Amber, age 26 and one granddaughter, Reygin, age 8. Zach lives in South Carolina and Amber lives in North Carolina.
Miller, Jeffrey D.
Miller, Lorraine Howald (no photo) (2005)
4840 N. Crow St
Brazil, IN 47834
812.446.4401
howald1002@ticz.com
Lorraine is a 1964 graduate and honorary member of our class. She is a regular on our bulletin board, and she has more than earned the right to be a part of us.
Development Administrator at Thompson Thrift Development.
Married for 30 years to a '65 grad (David Howald), two sons (Mark, 34; Matthew 32), three grandchildren.
Enjoys traveling, and recently fulfulled a lifelong dream of vacationing in Australia and New Zealand.
---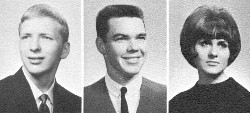 ---
---
---
---
---
---
---
Miller, Joe A.
Married Donna Batman
Miller, Kenneth
Mitchell, Carol Macy (1985)
6500 Richwood Dr
Danville, IN 46122
Hairdresser
---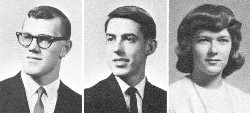 ---
---
---
---
---
---
---
Moench, Donald E. (2002)
2483 N Bowling Green Poland Rd
Poland, IN
812.986.2726
moench@ccrtc.com (wife's email)

Mohler, Mike (2004)
11303 Winding Wood Ct
Heritage Lake
Indianapolis, IN 46235
317.823.8098
mohlermd@aol.com
Married Jean Daily (BD '65) in 1967.Plant manager and have worked at Reilly Industries (chemical plant) in Indianapolis since 1970 - looking forward to retirement and lots of golf.
Have recently moved to the eastside of Indy to downsize and be closer to grandkids. Having lived on the westside all of our lives.....we didn't even know there WAS an eastside!!
We have one son, David, and a daughter, Cara and three grandchildren, 2, 1 and 2 months, who thoroughly rule our world. God is good.
Montgomery, Ruby
---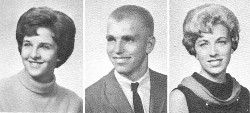 ---
---
---
---
---
---
---
Moore, Evelene Phillips (2002)
2095 Warsaw Rd
Dry Ridge, Ky. 41035
859.823.6091
Moore, John T.
Moore, June Graves (2000)
7212 Castle Manor Dr
Indianapolis, IN
317.272.7078
mjg1113@sbcglobal.net
Anthem Blue Cross, Senior Business Analyst
---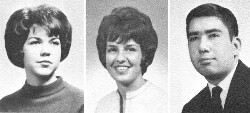 ---
---
---
---
---
---
---
Moore, Susan
Moorefield, Florence
Morales, Abundio (recent photo on the right)
Deceased. Died from injuries suffered from a fall from his roof. From the Indianapolis Star: Abundio "AB" Morales 59, Indianapolis, died Nov. 21, 2005. He was born March 18, 1946. Mr. Morales was a member of the Air Force during the Vietnam War. AB retired in 1999 from the U.S. Postal Service, where he worked as a mail handler for 15 years. He was a disabled American veteran. He loved golf and bowling. Mr. Morales had an Associates degree in Banking and in Heating and Cooling. Survivors include wife Rhonda Morales; son Joshua Morales; daughters Theresa (J.D.) Roundtree, Christina (Gary) Davis and Alisia Morales.
---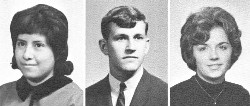 ---
---
---
---
---
---
---
Morales, Yolanda Nolan (2007)
From her niece Christina: "Yolanda is a realtor for Century 21 and is currently living in Greenwood. She has two sons, one of which followed my dad's footsteps and joined the Air Force."
Morton, Larry (2001)
1929 W 950th S
Pendleton, IN 46064-9365
765.778.4673
L247@aol.com
Micro-Line Technologies, Chief Financial Officer
(That's Larry in color, and his fourth grade picture next to his color picture).
I have not seen much of anyone for many years. I guess the northside does not attract most Westsiders.
College: IU, Hobbies: cooking and writing and women LOL. I have been single since 1986.
Here's a little something to share :)

Where did I go...

I was there yesterday big as life
Smiling and laughing not bothered by strife
When the mirror looked back this morning
all I saw was a stranger, the face the same but different
Where did I go?

I search and search trying to find me
Deep ever so deep in the recesses of my mind
I know who I was, I think I know who I was
But a thief has slipped within me
Who has stolen me?

How does one lose oneself, so strange
All the good that was once within
Torn away by the evil thief of souls
How could this happen to me
Was it the pain?

How could I let this happen
I protected myself so well
Now my mind does nothing but dwell
Stuck in the rut of the muddy road of life
Was it the fear?

Did I lose myself or was I taken
When will I be in the mirror once again
When will the face of evil leave my nightmares
How can I see tomorrow when yesterday is everywhere
Was it the shame?

A day again passes and a tiny piece of me returns
I will be whole, I will not let the evil win its prize
My soul will be mine my heart will be mine my dreams will be mine
I pray, I fight, I will find me once more and forever leave yesterday
It was everything it was nothing I am good I am me again.
---LJ M 04-11-2000
Mulcahy, Lynn Lashbrook
Deceased, died March 21, 2010
Obituary: https://www.legacy.com/obituaries/name/lynn-lashbrook-obituary?affiliateid=2839&pid=141064521
---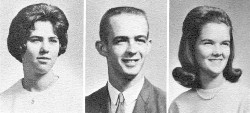 ---
---
---
---
---
---
---
Mumford, Rita Williams (2005)
2076 Laurel Lane
North Ft. Myers, FL 33917
239.543.2912
revralphwilliams@aol.com
Have worked for Lee County Schools for the last 16 years.
Married a pastor of the Baptist Church, moved to New Mexico for eight years.
Three children; two boys and a girl. And five grandsons I adore!
Muncie, David A.
David died of a massive coronary heart attack while jogging, about 1999. He had been a mechanic for the Indiana Air National Guard.
Murray, Carol Larsen (2007)
523 Chapel Hill West Drive
Indianapolis, IN 46214
317.241.6496
carolm747@att.net
Yes, I'm back in Chapel Hill again.
I married in June 1966 and divorced in April 1973. One son Chris, one daughter Cindy (Larsen)Hendricks. Three grandchildren - as of 11-12-2000 - Nicole is a 5'6" 13-year-old 7th-grader at Fulton, Tim is 5'5" and an 11-year-old 5th-grader at Chapel Glen. Kelly Ann is 6 and she just started Kindergarten at Chapel Glen. I never thought of myself as being short until this summer when 2 of my grandchildren passed me in height. And Kelly is already at the four-foot mark!
I was never much of a sports fan, but now I am a soccer fan. I love to watch Tim play, especially when he kicks the ball from one end of the field up and over the players heads and into the goal.
On June 30, 1999, I resigned my job in Carmel so I could spend time with my parents. They are getting on in years. In December 1999 I took a job as a teller to get back in the work force. Now I'm looking to get back into my field - Accounts Payable - but it has to be nearer to home than Carmel. I never wanted to be in management, (don't want the stress or the ulcers). I like helping the boss look good.
I would love to hear from anyone either by e-mail, phone, in person, or regular mail.
---

---
---
---
---
---
---
---
Murrell, Bill (2000)
400 Crestview St
Athens, AL 35611
256.232.7137
Athens, AL 35611
bmurrell5@aol.com
I'm a high school counselor, and I also coach baseball and cross country.
I have 3 children.
A - B - C - DE - F - G - H - JKL - M - NOP - QR - S - TUV - WXYZ
Back to the home page.