A - B - C - DE - F - G - H - JKL - M - NOP - QR - S - TUV - WXYZ
Click here for BDHS '65 Bulletin Board
Back to the home page.
---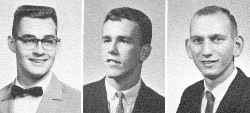 ---
---
---
---
---
---
---
Fahrbach, Phil (2001)
575 Shakespeare Dr
Avon, IN 46123
317.272.0969
pfahrbach@msn.com
Rexnold Corp, Sourcing Manager
Married Margaret Jennings
Faires, Dennis (2003)
7881 Patterson Dr
Avon, IN 46123
317.272.2170
dfaires@peoplepc.com
Pioneer Printing Company
Married Cathy Hopper
Fancher, Larry E. (2001)
628 Harding St
Plainfield, IN
lfan954767@aol.com
Olin Brass, Indianapolis
Air National Guard (retiring in six years)
I'm still alive and kicking! Been married a couple of times, three kids, and finally found someone to put up with me. Her name is Cindy and she works for Bank One.
We raise Labrador Retrievers (puppies due this summer!), and I enjoy bass fishing, boating, and camping.
---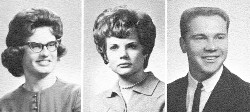 ---
---
---
---
---
---
---
Fariss, Sandra
Farlow, Bonnie De Golyer
Deceased, died November 7, 2018.
Obituary: http://www.weaverandrandolphfuneralhomes.com/obituary/bonnie-jean-degolyer
Farlow, David
Deceased, died November 14, 2004.
Obituary: https://www.legacy.com/obituaries/name/david-farlow-obituary?pid=189520473
---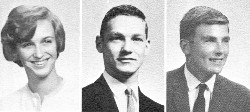 ---
---
---
---
---
---
---
Farmer, Stephanie Faulkner (1995)
49 Cossell Dr
Indianapolis, IN 46224
317.241.6146
Key Bank
Married to Bud Faulkner
Farnsley, Chuck (2005)
11980 Civic Circle
Mooresville, IN 46158
317.834.3594
dd777@att.net
After graduation Chuck worked for Maish Cabinet Company.
From 1966-1970 served in the US Navy aboard a destroyer stationed in Newport, RI and cruising mostly the Caribbean, North Atlantic, and Mediterranean.
He married Janet Tigner (Class of 65) in 1968 and they will celebrate their 37th anniversary in March.
From 1970 – 2001 he worked for Indianapolis Power & Light in Mechanical Maintenance, repairing boilers, generators and turbines.
He and Janet have three grown children – Christopher 34, Michelle 32 and Stacey 30. They also have 4 grandchildren, Leah 4½, Charlie (named for his grandpa) 3, Kyan 5 months, and Luke 6 months.
After retiring in 2001 he has enjoyed spending a winter in Florida, traveling east, west and south and now works for Hertz Car Rental.
Farr, Robert C. (2003)
552 Coventry Way
Noblesville, IN 46060
317.877.4333

---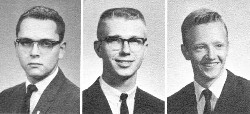 ---
---
---
---
---
---
---
Faught, Philip R. (2006) (that's him on the left)
8020 W 88th St
Indianapolis, IN
317.733.1039
prfaught@aol.com
Clinical Assistant Professor
James Whitcomb Riley Hospital for Children, Indianapolis
Faulkner, Bud (1995)
49 Cossell Dr
Indianapolis, IN
317.241.6146
liltax@aol.com
Indianapolis Police Dept (Ret); Carpenter
Married to Stephanie Farmer
Featherston, Jerry (2005) (That's him on the right)
5601 Milhouse Rd
Indianapolis, IN 46221
317.856.8857
Retired, Indpls Power & Light
Two children, a boy and a girl.
Worked for IPL for 33 years (retired 2002).
I restore antique tractors and small engines as a hobby. I travel all over Indiana, doing whatever I feel like when I wake up. That's what retirement is for!
---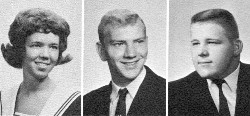 ---
---
---
---
---
---
---
Ferguson, Brenda
Finchum, Jack
Deceased--killed in Vietnam, July 1967
Fippen, Burton (Tiny) (2006)
2600 Colonade Ln
North Port, FL 34286
941.223.4283
tiny2600@verizon.net

---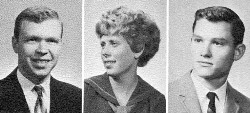 ---
---
---
---
---
---
---
Fishel, Norman H.
Fitch, Janet
Ford, Richard N.
---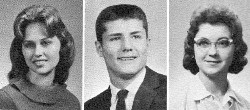 ---
---
---
---
---
---
---
Forey, Anita Thompson (2002)
8929 Sundrop Rd
Indianapolis, IN 46231
317.247.6823
mrst2580@comcast.net
I retired in June, 2002, from 25 years of teaching and technologysupport at Ben Davis High.
Married to Terry Thompson (Class of '62-retired) for 36 years; have a single son and a married daughter with two pre-school grandchildren.
I am absolutely enjoying every day and pursuing interests in decorative arts, Bible study, and gardening.
Fortune, Michael D.
Deceased - Died at the Indianapolis VA hospital, October 23, 2007.
Foster, Diana Williamson (2000)
396 Chardonnay Dr.
Salinas, CA 93906
prnssdi47@aol.com
Self-induced retirement after 25 years as a secretary. Moved to California 20 years ago; husband George (another Hoosier) gave up his engineering career to become an attorney; one son, Lance, has a masters degree in marine biology and is working on a computer science degree.
---

---
---
---
---
---
---
---
Fouch, Marla Miles (2000)
8519 E. Landersdale
Camby, IN 46113
317.831.1897
Indianapolis Public Schools, Art Teacher
Married Jim Miles
Fox, Dale (That's him on the right, too) (2007)
4946 W. 15Th St., Apt. #1
Indianapolis, IN 46224-6506
317.496.7648
dafox46224@yahoo.com
I'm semi-retired, and have been for 4 years, working for Butler Automotive Group at 96th St. and Keystone Ave, in the new and used car acquisition department as a Dealer Trader Driver.
I spent four years in the Coast Guard, then Purdue (graduated with a Mechanical Engineering degree).
Divorced, two kids (Heather, 30, RN; Brandon, 29, construction).
Editorial comment from Dan: Herewith a grateful and hearty thanks to Dale for being the Indy Liaison for our annual Labor Day Weekend Picnic. Couldn't do it without you, buddy!
Francis, Sandra Ahaus (2009)
1634 Park Chase Pl
Indianapolis, IN 46229
317.894.5356
Indpls Dept of Public Works
sahaus@att.net
I recently retired from the City of Indianapolis after 26 years. I really enjoy retirement and keep busy with traveling, family and will be going back to school to pursue my passion in art. I have two sons and two adopted grandchildren. I've lived on the far eastside of Indianapolis for many years but once my husband retires we hope to move south.

---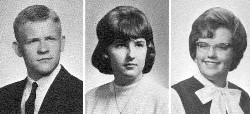 ---
---
---
---
---
---
---
Franklin, Phil (2000)
17949 E. Dickenson Place
Aurora, CO 80013
303.696.0694
USMC1967@comcast.net
Self-Employed: Franklin Fastener & Supply Co (owner)
I have been married for 20 years (my 3rd marriage) to Nancy Mone(Rocky River, Ohio). We have 6 kids, 4 boys and 2 girls, ages: 3-16. Ihave a grown son, Scott, who is a stock broker for Charles Schwabb inIndianapolis. I have a grown daughter, Tami, who has her own cleaningbusiness in Martinsville.
Frederick, Marjorie Shinn (2000)
3164 N. Winfield
Indianapolis, IN 46222
317.925.5878
mshinn@marian.edu
Marian College, Secretary
Married to Tony for 30 years, two daughters, one grandson and one granddaughter.
Went to Indiana Central (now Indianapolis University) after high school, now attending Marian College and close to completing a degree in Psychology.
Frizzell, Joyce Socier (2000)
Lost, last known address:
1001 Kiowa St
Pueblo, CO 81006
719-543-2593
United Bank of Pueblo, Operations Officer
---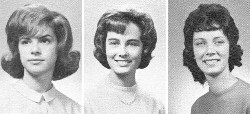 ---
---
---
---
---
---
---
Frye, Susan Keating (2000)
5211 Mosswood Ct
Indianapolis, IN 46254
317.298.8233
manderely@yahoo.com
Two daughters, one graduating from Butler this year and the other preparing to study in Australia.
Went to the dental hygiene school at IU-Fort Wayne right after high school, worked in the field for several years.
I do volunteer work for cancer charities, currently working with the Walther Cancer Institute.

Fugate, Sharon Canavan (1995)
8113 Black Oak Dr
Plainfield, IN 46168
317.839.7586
Sigma/Micro Corp, Programmer/Analyst
Fuller, Linda
A - B - C - DE - F - G - H - JKL - M - NOP - QR - S - TUV - WXYZ
Back to the home page.