A - B - C - DE - F - G - H - JKL - M - NOP - QR - S - TUV - WXYZ
Click here for BDHS '65 Bulletin Board
Back to the home page.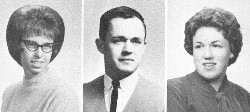 ---
---
---
---
---
---
---


Abdon, Linda Halliburton (2005)
726 N. Graham
Indianapolis, IN 46219
317.356.361
linda.halliburton@aes.com
Husband James, married 1969; son Michael born in 1979.
After graduation I attended Indiana College of Business & Technology, then worked at Merchants Association for seven years. In 1972 I began working for Indpls Power & Light until 2002, and now I'm semi-retired (still do training).
Now James and I like to travel and go to the movies, and I enjoying reading and collecting antiques.

Ackley, Larry W. (2005)
5703 N. Alton
Indianapolis, IN
317.298.0736
lackley@pfgmortgage.com
Sr Mortgage Consultant
Peerless Financial Group, Inc.
I did two tours in Viet Nam with the Air Force, then I attended IUPUI for my BA. Since that time I have worked in the banking industry or related fields.
I was married to Loretta Batman of our class until 1988, when we divorced. I have been married to Judy for 16 years.
Our family is like the Brady Bunch. Loretta and I have one son, Travis.
Judy and I have one son, Austin, and Judy has three children by a previous marriage that I consider as mine.
Meanwhile, my son Travis has two daughters, and Judy's youngest daughter Miranda has a son and a daughter, while Stephanie (Judy's oldest daughter) has a son and a daughter.
So that makes a total of six grandchildren.

Acord, Patricia
Deceased. Married and divorced Charles Brock; died of cancer in Nov 1981.
---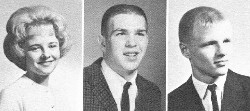 ---
---
---
---
---
---
---


Adams, Gretchen Slaton (2001)
Indianapolis
317.299.0066
Has worked at Eli Lilly and is a real estate broker in Hendricks County. Has sold Longaberger baskets as a hobby, and several times has been named Hendricks County Realtor of the the Year.

Adkins, Michael W.
Deceased. Died April 9, 2018. Mike was a retired coal miner.

All, James (2000)
Deceased. Died January 11, 1992. A Vietman veteran, he lived in Cheyenne, Wyoming, and was a Senior Electronic Technician for the National Weather Service for 23 years.
---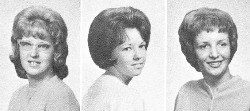 ---
---
---
---
---
---
---


Allen, Martha Beck (2001)
1532 Hardin Ct
Plainfield, IN 46168
317.839.4831
mbeck@scbi.org
Martha has one daughter & three grandchildren.
She is married to Jim Beck and for several years has worked for the Southern Baptist Convention headquarters on High School Road.

Anderson, Judith Barnes (2001)
7803 Quail Ridge South
Plainfield, IN 46168
317.839.7589
Housewife
Married Wally Barnes
Wally and I will be married 35 yrs this Oct. We have two grown married children, Jennifer and Michael. We have been blessed with two grandchildren....Jacque Sue and Garrett. Patiently waiting for another to arrive in March. These are our daughter's children, and our son Mike, well he's thinking about it.
We still live in Plainfield and have raised our kids here and love living here. Hate what has happened to our Country these past few weeks and Pray for our leaders. You have done a great job putting this web site together. Thanks!

Anderson, Roy (no photo) (2006)
1419 Sudden Valley
Bellingham, WA 98229
360.738.7321, ext 393
aroyce26@hotmail.com
Married Joyce Zeigler
It's wonderful checking out all that's going on on your website. It's great!! We married in Jan of '65 and have 5 children, 15 grandchildren with a blending of 4 more this July. Life is good! Roy is retired with new knees and I'm a clerk in the Municipal court of Bellingham. Take care and keep up the good work!! We'd love to hear from anyone who remembers us!

Anderson, Sherry Tatlock (2005)
514 High School Drive
Edinburg, IN 46124
812.526.2722
Single, mother of 5, grandmother of 9. Spent the last 7 years working for the state as a correctional/crew officer at Camp Atterbury.
Hobbies: Landscaping, refinishing wood furniture, cooking, camping, fishing, and riding motorcycles and horses.
---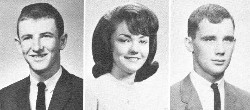 ---
---
---
---
---
---
---


Archer, Glen (First two photos--now and then) (2002)
3148 Thayer St
Indianapolis, IN 46222
317.291.6136
archie1947@aol.com
Owner, Datavoice Technology

Archer, Jo Anne Kiefer
5529 Linda Lane
Indianapolis, IN
317.244.3455

Argabright, Stephen (2002)
5234 Rinehart Ave
Indianapolis, IN 46241
317.248.9095
Air Force after high school, went to Vietnam, college at IU-PUI, construction, now retired.
---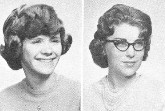 ---
---
---
---
---
---
---


Armstrong, Judy Jones (2003)
706 Laurel Grove Lane
Pearland, TX 77584
713.436.0424
txnf@aol.com
Worked at Indiana Purdue University purchasing dept. I married Mike Vickrey (BDHS 1964). We were married for 17 years, had three children, two boys and a girl, and divorced in 1984. I remarried in 1985 (Michael Davis) and was married to him until 1995 when he had a massive coronary in the drs office and died.
I now have 4 grandchildren.
Married and divorced Jerry Jones, now living with my sister and job-hunting.

Asdell, Karen Vanlandingham
Last known address: 3034 S. Emira Ct
Denver, CO
303.751.5021

A - B - C - DE - F - G - H - JKL - M - NOP - QR - S - TUV - WXYZ

Back to the home page.