A - B - C - DE - F - G - H - JKL - M - NOP - QR - S - TUV - WXYZ
Click here for BDHS '65 Bulletin Board
Back to the home page.
---

---
---
---
---
---
---
---


Babb, Raymond S. (2001)
1720 Beeler Ave
Indianapolis, IN 46224
317.486.0955
City of Indianapolis, Public Works
Vietnam vet, avid reader, world traveler (England, Switzerland, Scotland, etc, etc).
---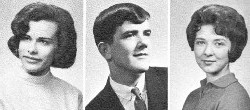 ---
---
---
---
---
---
---


Backer, Karla (2003)
3829 Creston Dr
Indianapolis IN 46222
backer@uindy.edu
I attended Methodist School of Nursing after I graduated from Ben Davis. I graduated in 1968 from Methodist. I went back to school several times. Ireceived a Bachelor of Science in Nursing in 1972 and a Masters of Sciencein Nursing in 1978. Both degrees were from IU. In 1992, I received a PhDfrom the University of Texas at Austin. The major was Curriculum andInstruction.
I worked at Methodist Hospital from 1968 to 1972 (both fulltime and parttime). From 1972 to 1976, I worked at the Marion County Health Department as a community health nurse. From 1978 to 1980, I worked at the Indiana State Board of Health. From 1981 to 1984, I taught at IU Southeastin New Albany. In 1986, I began teaching at the University of Indianapolis School of Nursing. I have been the BSN Program Director/Coordinator since 1998.
I have never married and have no children. I have been keeping busy caring for elderly parents. Dad died in 1990. Mom is still living at 93, but cannot be left alone. I have a senior companion staying with her.

Bailey, Paul E. (2005)
7187 Sycamore Dr
Avon, IN 46123
317.272.4830
Wife Barbara
Married Sharon McDonald after graduating. Got drafted, served in the Air Force 4 years, got divorced in 1967. Remarried 1972 to Barbara Latta. Two children, six grandchildren. Still working at Allison Transmission as a toolmaker (for 39 years!).

Bailey, Susan Valentine
10681 N. 800 West
Fairland, IN
317.861.6403
---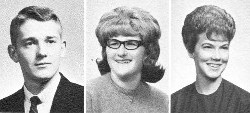 ---
---
---
---
---
---
---


Bain, Jerry (2005)


Baire, Barbara Lawson (2005)
319 Cossell DrIndianapolis, IN 46224
317.243.3050
barb.lawson999@gmail.com
Married 1969, daughter Kelly and son Jason. Have lived in Missouri, Pennyslvania, Indiana, Michigan, and back back home again in Indiana due to my husband's job transfers.
Divorced 1991, active in VFW Ladies' Auxiliary for 15 years (Speedway #2839, 11th District). I will be Jr Vice President at the state levil this year, and State President in 2007-08.
Volunteer at Roudebush VA Medical Center and have been an advocate for Veterans rights for many years.
The last 12 years I've worked in the racing industry for Advanced Racing Suspensions Inc, a company that builds racing shocks for the open wheel series (midgets, sprints, silver crown, trucks, etc). My job is lots of fun - I get to meet drivers, mechanics, etc, and go to parties and races.
The light of my life is my grandson Jason (Jake), who is 3 1/2 years old.

Baker, Vincent (no photo) (2004)
4015 Beauport Rd
Indianapolis, IN 46222
317.297.2452

Ballou, Helen Poole (2001)
2805 S. SR 267
Plainfield, IN 46168
Homemaker, Babysitter
Two daughters, a son-in-law, and three wonderful and lively granddaughters.

Baldwin, Richard (2003)
480 Buffalo Rd
Martinsville, IN 46151
765.342.3189
This is his junior picture. Does anyone know if he spent his senior year at Ben Davis?

---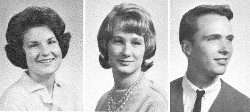 ---
---
---
---
---
---
---


Bamford, Nancy Garrett (or Perrine?) (1975)
Last known address: 496 Brandenberry Ct W
Columbus, OH


Bare, Margaret (no picture) (1975)
Lived at 1635 S. Sigsbee in 1975.
On official class roster, but no other info?

Barker, Florence Komlance (2004)
5656 Windmill Dr
Indianapolis, IN
317.293.5394
flojoes@pacbell.net
Husband Joe

Barker, Jerry (2005)
161 N. Raceway Rd
Indianapolis, IN 46234
317.271.1271
JB8555@aol.com
Indianapolis Police Dept.
Wife Elaine
Public officer 36 years for Indianapolis; Chife of Police for five years. Currently Major of Crimes Aganinst Persons Bureau.
BS in Criminal Justice from IU.
US Army 1966-68, Vietnam, Cavalry, Purple Heart, Combat Infantry Badge.
Married 29 years, three children (all Ben Davis grads): Joshua (25), Sarah (24), Jeremiah (22).
From the Indianapolis Star:
Veteran Indianapolis police officer Jerry Barker was appointed IPD chief in February 2000.
Barker, a native of the city's Westside, began his career with IPD in 1969 as a patrol officer. He also led the special weapons and tactics team, served as assistant commander of the vice unit, and commander of the auto theft branch, and was a hostage negotiator and former head of the juvenile branch.
Before becoming chief he was commander of the West District, where he was credited with creating strong ties between the community and IPD. He started a Boy Scout troop that met at district headquarters and invited community leaders in to help interview officers who applied for promotions. He even started a carnival where kids with good grades got free rides.
Barker was born Nov. 7, 1946, and is a graduate of Ben Davis High School. He is an Army veteran and served in the Vietnam War, receiving a Purple Heart.
---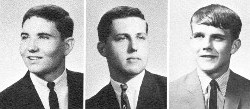 ---
---
---
---
---
---
---


Barnes, Wally (1985)
7803 Quail Ridge South
Plainfield, IN 46168
317.839.7589
BM&W Constructors, Project Manager
Married Judy Anderson
This is Judy Anderson Barnes, Wally and I will be married 35 yrs this Oct. We have two grown married children, Jennifer and Michael. We have been blessed with two grandchildren....Jacque Sue and Garrett. Patiently waiting for another to arrive in March. These are our daughter's children, and our son Mike, well he's thinking about it.
We still live in Plainfield and have raised our kids here and love living here. Hate what has happened to our Country these past few weeks and Pray for our leaders. You have done a great job putting this web site together. Thanks!

Barr, Gary R. (2001)
6642 W Loretta Dr
Indianapolis, IN 46221
317.856.5310
grbarr@ameritech.net
Regional Manager, Blonder Company (worked there 25 years).
Wife Doris, 3 children, 9 grandchildren.
Enjoys golf and bowling. Gary was on the road when I made contact, but I found Doris (a Knightstown grad) at home, and she's a joy to talk to.

Barthel, Ronald E. (2003)
Last known address: 682 Dover Dr
San Bernardino, CA 92407
909.886.9543
Teacher and track coach at Covington High School, Indiana, in 1970's. Taught math at Covington Middle School, early 1980's, moved to California about 1986.
From his ex-sister-in-law:
Ron is a teacher in the San Bernardino, CA school system. His father, Alfred Barthel, still lives on Glen Arm Road in the Farley addition. Ron is the father of my two handsome nephews in their 20s. Ron married my sister Glenna, Class of '66. They are now divorced and Ron has married a lovely woman named Frances.
---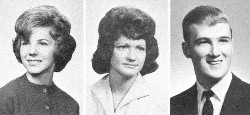 ---
---
---
---
---
---
---
Bastin, Mary Stewart
Died Feb 11, 1997
Bastin, Ronald
(no photo) Died June 13, 1997. Was a police detective in Indianapolis.
Bates, Myrna Mastin (2004)
6409 Westdrum
Indianapolis, IN
317.248.1690
Bath, Jon A.
Married Sue Campbell
Deceased, died May 2018.
---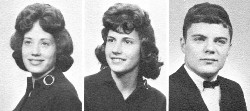 ---
---
---
---
---
---
---


Batman, Donna Miller
2808 N. 23rd St
Lafayette, IN 47904
765.423.1314Married Joe Miller

Batman, Loretta (1985)
RR4, Box 122
Franklin, IN
Married Larry Ackley (still married??)

Bayliff, Harry J. Jr (2005)
2609 Southeastern Ave
Indianapolis, IN 46201
Hear he's a pretty mean pool player. Anybody have anything else on Harry?

Beasley, Stanley (junior photo) (1995)
4438 Sefcik Rd
San Angelo, TX 76905
915.651.7557
Wife Janey
Office machine repairman
---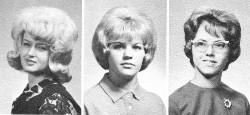 ---
---
---
---
---
---
---


Belcher, Judith Carter (1975)
c/o 1544 S. Sigsbee
Indianapolis, IN 46241
317.876.2145

Bell, Andrea Mitchell
6585 E. St Rd 136 West
Brownsburg, IN 46168
317.852.7457
Husband Wayne

Benge, Patty Krebs(2002)
5023 W. 13th St
Speedway, IN 46224
317.247.4136
patty.krebs@brightpoint.com
For the last 4 years I have been working at Brightpoint in Plainfield, In. I am in the accounting dept.
I have two daughters, Kellie(31) and Amber(25). Kellie is married and has two daughters and Amber has recently moved back home with me and has a son.
It is so exciting to see and read about the class of '65.
---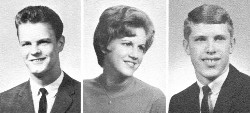 ---
---
---
---
---
---
---


Benton, Mike (2000)
6179 S County Road 100 W
Clayton, IN 46118
317.539.5147
Works for Coca-Cola, wife's name is Karen; they enjoy traveling. Has a son at Purdue.

Best, Dala Stahley (2004)
13980 Cottage Grove Ct
Camby, IN 46ll2
317.821.013l
dstahley@indygov.org
In Jan, 2004 the Stahley's opened a family-oriented sports bar/restaurant in Heartland Crossing. It has many tv's for viewing all sporting events, pool room with dart boards and a room for families that includes video games for both kids and adults.
They are located in the strip mall right next to Menards. The name is "Heavy's Sports Cafe".
Now, back to the regularly-scheduled program:
I work for city government and hopefully at the end of this administration I can retire.
My daughter Mindy has married and her husband is a nephew of Steve Jones ('64 grad). She has one son Devon who is l0 years old. She works for Clarian Health at Methodist Hospital. My son has a brand new baby, Jaxon (editorial comment: The spelling of Jaxon has a connection to the rock group KISS which my son is their absolutely biggest fan).
I have been married l6 years to my husband Steve.

Blackwood, George (1975)
Last known address: 2418 S. Mars Hill St
Indianapolis, IN 46241
On the class roster, but not in the yearbook. Anybody know him?

Blank, Pete (2005)
3209 Mattea Ct
Charlotte, NC 28278
704.321.9872
pblank27@aol.com
Wife Janet
Married 37 years, three grown children. Expecting first grandchild in November.
I'm in the furniture business, and we've moved around the country - lived in Lexington KY, Dallas, and Chicago.
---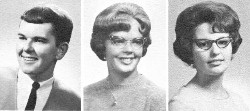 ---
---
---
---
---
---
---


Boger, Rodney (2000)
2133 E County Road 600 S
Clayton, IN 46118
317.539.2578
rboger6456@aol.com
Sales manager for National Car Sales on W. Washington Street.

Bolin, Darlene Laugh
PO Box 51471
Indianapolis, IN 46251
Listed on the class roster, but not in the yearbook. Know her? Help!

Bostic, Charlene French
c/o 739 S. Biltmore
Indianapolis, IN 46241

Boston, Laura Williams

Bowles, Donald (1975)
5138 University Ave
Indianapolis, IN
On class roster but not in yearbook.
Buzz me if you have info on him: dan@bdhs65.com
---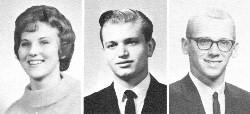 ---
---
---
---
---
---
---
Bowling, Carolyn Anderson
Last known address: 14 Normandy Ct
Danville, IN 46112
Bowman, Jerry T. (2001)
1310 N Dukane Way
Indianapolis, IN 46214
317.244.0378
Citizens Gas
Four years in the Navy, then to Citizens Gas.
Three kids 30, 29, 25), three grandkids (8, 6, and 5 months).
Enjoys working on cars and woodworking.
Boyer, Bruce S. (2005)
P.O. Box 4726
Seminole, Florida 33775
bboyer@jud6.org
Clearwater, Florida Circuit Court Family Law Judge
From the Clearwater Bar Association Newsletter, Feb/Mar 2001:
Judge Boyer graduated from Ben Davis High School in Indianapolis, Indiana. He attended Eastern Kentucky University for his B.A. degree. He obtained a Master's Degree at Morehead State University. The University of Kentucky is his alma mater of his J.D. degree.
Prior to attending law school, Judge Boyer was taught 7th grade geography and 8th grade history at Gulf Junior High School in New Port Richey, Florida. After graduation from law school, Judge Boyer became an Assistant State Attorney with the Sixth Judicial Circuit from 1978 through 1983. In 1983 through 1990, he became a sole practitioner in private practice with an emphasis on criminal defense.
Judge Bruce Boyer was elected as a Pinellas County Circuit Judge in 1990. From January of 1999 to the present date, Judge Boyer has been assigned to the Clearwater Circuit Court Family Law Division.
Judge Boyer is married to KayLynn Boyer and they have three children. His favorite extracurricular activity is coaching his children's soccer teams.
And Bruce writes (in June 2005):
I am still a Circuit Court Judge in Clearwater, Florida. I have been a Circuit Court Judge in the 6th Judicial Circuit of Florida since 1990, when I was first elected. I was reelected in 1996 and again in 2002. I will be up for reelection again in 2008, as our Judges serve 6 year terms. I am currently assigned to the Clearwater, Florida courthouse and preside over a civil trial section.
---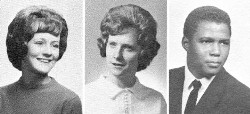 ---
---
---
---
---
---
---
Brackin, Janice Pohlman (1975)
RR3
Carrolton, IL 62016
Bragg, Linda Paul (2007)
Husband Dale, Lives near Danville. Son Scott, born 1972.
(Thanks to Gary Spurgeon, BDHS '64, her first husband).
Brand, Kenneth A. (1975)
Last known address: 1054 N. Tremont
Indianapolis, IN
Brewer, Janice (no photo)
Last known address: 1943 S. Brewer Rd
Indianapolis, IN 46231
---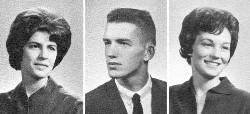 ---
---
---
---
---
---
---
Brinkley, Susan Watkins (2005)
4910 Cross Creek Ct
Arlington, TX 76017
txsuz@tx.rr.com
Accountant
I currently own and operate AlphaGraphics Print Shop in Arlington, TX:
http://www.us110.alphagraphics.com
As one of the many hats I wear, the Accounting degree I received from Az. State University comes in handy since I am able to take care of my own financials.
I enjoy golf & travel, but my true passion is gardening. I designed, installed and care for 5 theme gardens. I give tours of my yard to churches/scouts/retirement homes/clubs/anyone that has an interest. The tours have grown to greyhound bus loads of people.
As a cancer survivor, I have learned to make the most of everyday!
I have been married (for 29 years). We have two daughters (Dawn & Rene'), a son Ross (he is autistic), and two grandsons.
I have never missed a High School reunion and I am looking forward to our upcoming "40th".
Brissey, Roger L.
c/o 828 Denison Ave
Indianapolis, IN 46241
317.244.0198 (mom's phone?)
Brockslager, Francie Sand (1975)
2316 Resormers
Indianapolis, IN 46203
---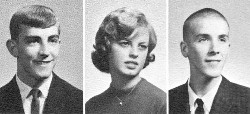 ---
---
---
---
---
---
---
Brown, Jack E.
Deceased. Died August 9, 2019
51 years of marriage to classmate Janis Roush
Brown, Karen Speedy (2008)
177 W. JoJo Ln
Nineveh, IN 46164
Married Bob Speedy
Brumagen, Thomas A. (1975)
14 S. Iris Ave
Indianapolis, IN 46241
317.244.1163
Brown, Sandy Lawlis (no photo) (2005)
8749 Log Run Dr S
Indianapolis, IN 46234
Didn't know where to put this! Our teacher, not a student.

Husband Jerry, was 40 years in August.Teaches AP US History and American Studies at North Central HS; just finished her 20th year.
Two children - daughter with two sons (ages one and four) living in Los Angeles, and a son living in London.
---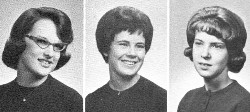 ---
---
---
---
---
---
---
Bucklew, Edie (1995)
7377 Pebble Beach Rd
Ft. Meyers, FL
Registered Nurse
Married Mike Chandler
Bulyar, Carolyn Aranjo (2003)
8401 Ford St
Raytown, MO
From her daughter: "My name is T.J. Aranjo. Carolyn Bulyar, now Carolyn Aranjo, is my mother. She and my father, Tim, have lived in the Kansas City area for many moons. They just had their 35 wedding anniversary this month. We visit Speedway every Thanksgiving."
Burch, Sandra
---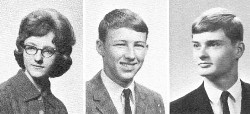 ---
---
---
---
---
---
---
Burdine, Donna Alford (2005)
1625 S Norfolk St
Indianapolis, IN 46241
317.244.6134
teadj@sbcglobal.net
Husband Tom
Assistant Transportation Supervisor, Wayne Township
Have worked in the township since 2-10-75; moved up the ladder a little but still in school busing.
Still married, 41 years in December. Family includes two sons, Tom Jr who gave us two grandsons (Thomas III better know as Trey and Zachariah) and Andy who gave us four grandchildren (Drew, Tyler, Jeffrey and Cheyenne).
Not much time for hobbies or travel, taking care of ageing parents which I'm sure a lot of us are doing in this time of our life.
Burke, Victor (Jack)
Died August 16, 1995.
Received this note from Jack's sister:
Jack was in Viet Nam in 1968, and he was wounded in his arm and leg.
His first marriage was in 1969 to Bron. They had one daughter name Erin Burke. After his divorce he met and married Carol Maroff of Omaha, Nebraska. Carol has one son, Chris.
Jack was a self-employed carpenter, and he and Carol lived in Worthington, Indiana until his death from non-Hodgkins lymphoma in 1995.
The army declared his disease a result of agent orange after his death.
Jack was well-remembered at his memorial service by family and friends.
I am married to Jack's younger brother, Michael (BD 1968).
I have enjoyed your website. It is great!
Sincerely, Shirley Burke, Class of 1968
Burke, William A.
RR 1, Box 185 C22
Pittsboro, IN 46167
317.892.3270
---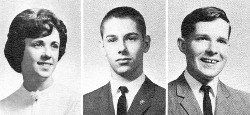 ---
---
---
---
---
---
---
Burkhead, Donna Blevins (2005)
2305 Flowering Crab Dr
Lafayette, IN 47905
765.429.5207
Nurse
Husband Tom
I have lived in Lafayette for 26 years and love it.
My husband Tom and I have been married for 14 years, and between us we have six children and 5 grandchildren. God has been very gracious to us.
I still have close contact with several classmates.
Thanks for the time you have put into this--it's neat to see where all of our classmates are and how their lives have turned out.
Burns, Donald W.
748 W. Mill
Danville, IN 46122
317.745.3196
Burns, John W. Jr. (2005)
75 Cedarwood Ct
Whiteland, IN 46184
317.535.2428
john.burns@alfalaval.com
Sales/Marketing Account Manager for Alfa Laval, Inc.
Married to Kathy Anne (Richards), a graduate of Manual High School (Indpls), for 24 + years (5/16/81), no children (unless you count me - she says I'm in my third childhood and that I more than make up for several children).
Due to family circumstances was never able to finish college - began working right after graduation from high school and have been going strong since 1965 (has it really been 40 years?).
Honorably discharged from the U.S. Air Force in 1970 after two tours of duty in Viet Nam. Received the Air Force Commendation Medal for meritorious service while in Viet Nam.
Currently a sales/marketing account manager with 400 customers and $6 million per year in gross sales. Work for a Swedish-owned (is there anything purely American anymore?) company that is international in its operations and supports nearly every business segment known (food, environmental, oil exploration, bio-chemicals, life sciences, shipping (cruise, industrial) - well, you get the picture!) - I've been with them since 1994. My customer base includes the vegetable oil, fish, meat, poultry, and brewery segments. All of the major U.S. companies in these business segments are my customers.
I have been an ordained deacon since 1981 and was ordained as a minister of the gospel on 4-25-1998 (my 51st birthday) and have been preaching the Word, teaching, performing weddings (and funerals), and now have about 30 churches in 8 states that I visit on a regular basis. I am in charge of the music ministry at my home church in Franklin, IN and am responsible for booking singing groups to appear at the church.
I am an accredited public speaker by Toastmasters International, the International Platform Guild, and the National Speaker's Association.
Hobbies: on very rare occasions I still judge high-school band contests, drum & bugle corps contests; I love to read (about 60 books a year), I love all kinds of music (except heavy-metal, rap) - my favorite is light jazz; I am a HUGE science-fiction fan (Star Trek, Star Wars, Babylon 5, Andromeda, etc.); Kathy and I love to travel, we love to cook together, we watch the Food channel all the time (you would know this if you saw me in person - I'm nearly as round as I am tall! - the good news is that I'm not very tall!)
Well, this ought to be enough incriminating information for now....
---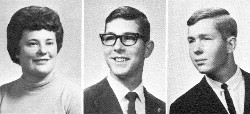 ---
---
---
---
---
---
---
Burris, Patricia Rusie
2325 W. Washington
Indianapolis, IN 46222
Burroughs, James A. (That's Jim on the right) (2005)
17928 Old Jefferson Hy
Prairieville, LA 70769
225.677.8629
frog3@eatel.net Three grandchildren.
Self-employed, moved from Indy in 68 to Cocoa Beach FL, moved to Prairieville, LA in 81. Served in the Indiana Nat'l Guard 64-68, Florida Nat'l Guard 68-70.
Hobbies: Flying PPC's and traveling. Member Indian River Lodge # 90 F&AM, Titusville, FL.
Burton, Joseph W.
6455 W. 13th St
Indianapolis, IN
317.243.2494
Wife Jeannine
---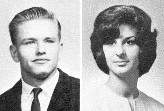 ---
---
---
---
---
---
Bush, Ronald
8822 S County Rd 425 E
Mooresville, IN 46158
Bush, Terry L.
Bushong, Janie (Cynthia) Farrington (2000)
8132 Captain Dr
Avon, IN 46123
317.272.4666
Cinergy (PSI Energy)--Purchasing
A - B - C - DE - F - G - H - JKL - M - NOP - QR - S - TUV - WXYZ
Back to the home page.