A - B - C - DE - F - G - H - JKL - M - NOP - QR - S - TUV - WXYZ
Click here for BDHS '65 Bulletin Board
Back to the home page.
---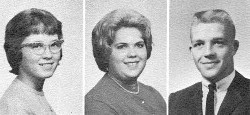 ---
---
---
---
---
---
Daily, Jean Mohler (2008)
436 Brentwood Ave
The Villages, FL 32162
352.227.0444
gmamohler@aol.com
Married Mike Mohler (BD '65) in 1967. Retired twice - once from teaching first grade and once from working for a seminar organization. Active in church and community - it's good to be able to give back, isn't it? Mike has retired after 40 years at Reilly Industries and we are now officially "snow birds" - at least until the grandkids get too busy for Grandpa and Grandma. We have found an amazing place in Florida and are loving the winters with pickleball, bocce ball, golf, being outdoors, bridge, spending time with my mother and life in general. We have one son, David, in Indy with 3 yr. old Lilli, and a daughter, Cara, in KY with 5 yr. old Bj and 4 yr. old Braden. Our grandchildren thoroughly rule our world and imagine we will become frequent flyers! I hope we will always follow these words of wisdom: "A hundred years from now it will not matter what my bank account was, the sort of house I lived in, or the kind of car I drove ~ but the world may be different because I was important in the life of a child." Forest Witcraft
Danner, Judy Whitinger (2002)
6732 Caribou Court
Indianapolis, IN
Registered Nurse
Danner, Robert ("Robin") (2000)
iufan35@yahoo.com
That's him now, on the right...
Lets see,....hmm......went to Tibet after BD....meditated for 5 years......came home and patented green catsup and cold fusion......sold those patents off.....bought an island/estate in themiddle of Lake Como in Italy....In the area drop on by....I have 18 guest suites...
---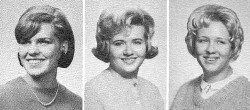 ---
---
---
---
---
---
---
Darbro, Denise
Davidson, Marcy Culp (2003) (that's her now, on the right)
245 Lazy Hollow Dr
Brownsburg, IN 46112-2411
317.858.8060
mjculp@iupui.edu
IU Medical Center, Forensic Pathology
Davis, Betty Malone (2002)
1232 Ginger Ct.
Indianapolis, IN 46241
317.481.9126
boop2379@aol.com
As you see I am still on the west side not too far from the old school.
---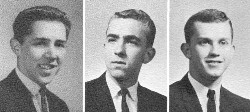 ---
---
---
---
---
---
---
Davis, Cheryl Goode (2004) (no picture)
9227 Wind River Ct
Indianapolis, IN 46234-2054
317.209.0274
Not in our yearbook, but Sandy Harmon-Glassing assures me she was in our class.
Her husband's name is Max.
Davis, Mike (2004)
Spokane Valley, WA (?)
Sales Manager (Industrial) : Mostly wine & beer production fermentation tanks (how ironic).
Personal Notes: Still love motorcycles and the great outdoors. I love the alpine mountains and wilderness areas here, but that special soft spot in my heart still misses the flatlands and hardwoods.
Dean, David (that's him on the right, too) (2002)
P.O Box 25
Lizton, IN 46149
317.994.6131
D and D Construction, owner with brother Gary.
debbiekaymoody@yahoo.com
Loves to golf, works part-time at Pittsboro Golf Club.
Deckard, Bob (2001)
Avon, IN
317.745.5902
Married Cheryl Edwards 1967. Two partially grown sons, ages 27 and 30 (man are we getting old).
Attended both IU and Purdue at Indianapolis. Currently a Purchasing Agent at Link-Belt Bearing Div. Have been with Link-Belt and lived in Avon for 32 years.
I have grown too old to participate in sports and only current excitement in life is riding motorcycles.
---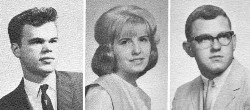 ---
---
---
---
---
---
---
Deckard, Roger L. (2008)
From Robert Speedy's sister MaDonna: "We were in a car club with Roger Deckard for a long time and he moved to I think Jacksonville FL in the late 70ís with his wife Bonnie. They divorced after they moved."
Deckert, Kathleen Maxfield (2005)
255 NW 40th Ave # 51
Ocala FL 34482
352.208.7335
maxfield01@cox.net
Married to Ed Maxfield, BSHS '64
Thirty nine and one half years after high school graduation, I graduated from Central Florida Community College with an A. A. Major Special education. I will start a two year program at Berry University this January, which will be for a teaching certification in special education K through 12.(ese). I guess it is never too late to learn. I am still living in Ocala Florida, but will try to think of a way to get to Indiana for the reunion.
Dee, Mike (2003)
Owned a bar in Clermont
Married Pam Curtis
Last known address Camby, Indiana

---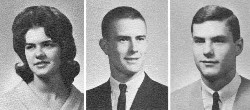 ---
---
---
---
---
---
---
Deisch, Theresa
Dennis, Stephen K.
Deceased.
Stephen K. Dennis, 71, of Indianapolis, IN passed away May 13, 2018. He was born March 8, 1947 in Indianapolis, a son of the late Myra (Knoy) and Clifton Dennis. Survivors include daughter, Mackenzie (Johnny) Smith; brother, Guy C. Dennis; grandsons, Kale Smith, Henry Smith; niece, Shirley Dennis; nephew, Gary (Angie) Dennis; great niece, Katlin Dennis; great nephews, Dustin Dennis, Nick Dennis. Preceded in death by his parents. Stephen attended Ben Davis High School. After graduating he served in the United States Army, part of Company A 2nd Battalion, 50th Infantry 2nd Armored Division in Fort Hood, TX from 1967-1969. He was a SGT(T). Stephen's hobbies included hunting, fishing, and gardening. Online condolences can be made at www.bellmortuary.com.
Derrickson, George M.
729 Autumn Ln
Belton, SC 29627
864.224.1980
From Dala Best Stahley: He has been retired since he was 52. He had been a U.S. Marshall for 30 years. Divorced and lives with his 12 year old son. Has numerous businesses including a photography studio and rentals. He served in Viet Nam.
Dewees, Richard (2005) (no photo)
10817 E. County Rd 100 N
Indianapolis, IN 46234
317.271.6899
Wife's name is Linda, three kids (two married), four grandchildren.
---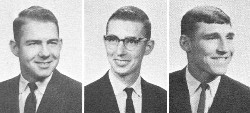 ---
---
---
---
---
---
---
Dillen, Richard (junior picture)
Richard spent his senior year at Ben Davis. He died in June, 1995.
Dierdorf, Richard E. (2004)
rdierdorf@iquest.net

Ditmer, David
deceased, illness, April 1967.
Dodd, Dennis A.
3681 Howard Ave, Apt 3
Los Alamitos, CA 90720
562.596.6936
dodd1fan@verizon.net

---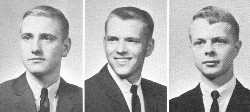 ---
---
---
---
---
---
---
Dodd, Michael W. (2003)
Mike died in March of 1987.
Mike was a supervisor for Roadway Express during the 70's and 80's.
He married Phyllis Mitchell, BDHS class of 67.
They had twin sons who are now 26. His son, Andy, is a graduate of IUPUI where he was captain of the golf team. Andy has a son, Payton, who honored his grandpa Mike by being born on his birthday! Mike's other son, Matt, is a graduate of Mississippi State and is a landscape architect. Matt is living in Louisiana with his wife, Shannon. They expect a second grandson for Mike in May of 2003.
Mike would have been very proud of his family.
(The above was written by Phyllis Dodd, who invites friends of Mike to write her at:
loddiedoddie@aol.com).
Donaldson, Gary E. (1995)
PO Box 34331
Clermont, IN 46234
Doran, Michael E.
---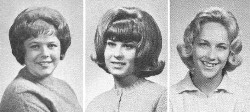 ---
---
---
---
---
---
---
Dorsett, Sherrie Crain (2005)
525 Armantrout Ln
Indianapolis, IN 46241
317.487.1260
emspolice@aol.com
State of Indiana, EMS Operations Director, Dept of Homeland Security
Husband's name Mark.
Married 1965, two children (Edward Moore II, born 1967, and David Moore, born 1970), divorced 1982.
Married Mark in 1987, worked for the State of Indiana since 1980.
Four grandchildren: Adam, Michael, Eddie, and Nick (aged 10 to 17).
Lifetime member Wayne Twp Fire Dept; Firefighter/EMT since 1974; I was one of the first women firefighters in Wayne Township.
Dorsett, Teresa (misspelled "Theresa" in yearbook) Davidson
Deceased, died January 22, 2016.
Husband Guy Davidson, daugher Leigha Kays Arvin
Dost, Maryke (Vickie)
---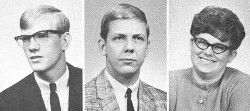 ---
---
---
---
---
---
---
Dowdell, George
Deceased, killed in automobile accident while returning from spring break, around 1970?
Downey, Kent (2004)
7061 Bentgrass Drive
Indianapolis, IN 46236
317.826.7555
kdowney903@comcast.net
I found the Ben Davis High School Class of 1965 Year Book a couple of years ago after reading an email you had sent to the "Class of '65". I was amazed at what I found. Our Senior pictures along with current pictures, updates from classmates, where they are, what they are doing and much more. I have shown the yearbook to co-workers, family and friends and no one else has this online experience. As many have done, I too want to thank you for what you have created.
From time to time I peek in on the bulletin board to see the "topic of the day" or the "topic of the week". When I first found the BB you were reminiscing about life during the early 1960s . That really brought back a lot of great memories. Ah, but that was a different time and we have moved on.
Now, my information:
After high school I continued my education at Purdue University in West Lafayette, earning a Bachelor of Science Degree in Civil Engineering.
In July 1972 I married Kathryn Gibb (Ben Davis Class of 1968) and we moved to the eastside of Indianapolis where we have remained.
In January 1977, our lives changed as our daughter Karry Anne was born. In July 1980 our lives changed again and our son Kevin Michael was born. Both of our "kids" are now college graduates and are going forward with their lives.
After graduation from Purdue, I began my career designing transportation projects, highways and bridges. In 1983, I became a partner of our firm, United Consulting Engineers & Architects.
In 2001 I assumed the responsibilities of President. I continue that role today leading 80 staff members in our office on the eastside of Indianapolis.
Downing, Carol Anderson (1985)
954 Highlander Dr
Plainfield, IN
Housewife
---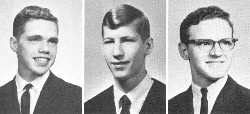 ---
---
---
---
---
---
---
Downs, Samuel A. (2002)
sjoycesam_1997@yahoo.com
Since high school I have lived in Lansing, Memphis, all 4 sides of Indpls and am currently now in Largo, Florida.
My first wife left me after 26 yrs and I have been with my second wife for 6 yrs. Between us we have 6 kids, 7 grandkids.
I found out quickly I wasted my time majoring in drafting inasmuch as I hated being indoors. The last 35-40 yrs. I have worked in building construction of one kind or another. I enjoy service work and meeting all kinds of people. The past 10 yrs. I have been a plumber and found it to be enjoyable.
As far as hobbies, I have always had acquariums going, mostly salt water tanks since they are the easiest to keep and maintain. I also have collected and sold several stamp collections and still enjoy reading sci-fi.
Drattlo, Lynn
Deceased.
"Dan, One of your fellow high school colleages, Lynn Dale Drattlo, passed away on Sunday, August 10, 2008.
Sorry to be the bearer of such news."
R. Allen Drattlo II
(864) 254-3296
Ducker, Thomas
Dubak, Daniel (no photo) (2005)
2733 S. Foltz St
Indianapolis, IN 46241-5707
317.244.9926
Wife Linda, two boys, three grandkids (a boy and two girls), married 31 years.
Served in Vietnam 1966 - 1969.
---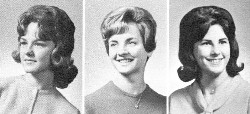 ---
---
---
---
---
---
---
Duncan, Beverly (Jean) Douglas (That's her in color) (2004)
bjd833@aol.com
I got married in June following my graduation from Ben Davis--just three weeks after graduation.
A couple of years later my husband and I started a graphic arts and printing business. We sold this business in 1970 and went into the Christian ministry full time.
Our ministry endeavors have taken us to several foreign lands which include the Middle East, India, Haiti, Philippines and Mexico. My husband is the Chairman and President of an International ministerial organization and I serve as the Treasurer.
We have started six churches, the most recent we are now pastoring in Phoenix, AZ. We have lived in Florida, Tennessee, Georgia and Texas prior to our move to Arizona. Time goes by quickly!
We have three children of which two are boys and seven grandchildren which all reside in Arizona.
Duncan, Sandra
Durham, Deborah Schone (2007)
7849 Eaker Ct
Brownsburg, IN 46112
317.892.3916
Thanks to Gary Spurgeon, BDHS '64.
---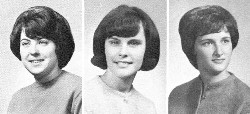 ---
---
---
---
---
---
---
Dusenbery, Barbara
Dux, Diane (2001)
Lives in Las Vegas
Dye, Tamara Jennings(2000)
37 Longwood Dr
Mechanicsburg, PA 17055
717.766.6105
angus6890@msn.com
Dean Witter, Broker
---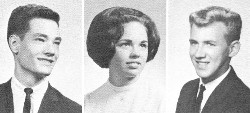 ---
---
---
---
---
---
---
Eaton, Jeffrey D.
Edwards, Cheryl Deckard (2001)
Avon, IN
317.745.5902
Married Bob Deckard 1967 (smartest thing she ever did). [Editor's note: Bob wrote this!]
Still trying to raise two sons, age 27 and 30, and currently works at First Indiana Bank at Tenth Street and High School Road.
Edwards, John T.
---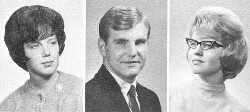 ---
---
---
---
---
---
---
Edwards, Ruth Long (2005) 5784 W. Morris St
Indianapolis, IN 46241
Ehrman, Mark (2005)
1153 Spencer Dr
Brownsburg, IN 46112-7713
317.852.2558
meege713@aol.com

Ellis, Becky Daily (2001)
Brownsburg
daily2019@aol.com
Retired elementary teacher; now does substitute teaching.
This article about her appeared in the Indianapolis Star:
http://www.indystar.com/apps/pbcs.dll/article?AID=/20051109/ZONES02/511090328/1020
Written by Jean Daily Mohler (sister-in-law): Dan, I have waited long enough for Becky to write this and now will do it for her! Becky married Bill Daily (class of '63) and has 5 wonderful children ages 13 - 29 and 2 terrific grandsons.
Two children have graduated from college, two are taking classes and one is in middle school.
Bill worked for the Indiana State Attorney General's office for 20 years and now has a practice in Danville - if you ever want a good, Christian attorney, I highly recommend him. They are both extremely active in their church.
Becky is also a 4-H leader, Sunday School teacher, VBS coordinator and has home-schooled their children. Needless to say, she has put her IU teaching degree to good use!I know that I am highly prejudiced but watching these two live their lives, raise their children and give to the community, I just wish there were more Becky & Bills in the world.
---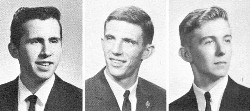 ---
---
---
---
---
---
---
England, William H.
English, Robert E. (1985)
413 Bregante
Diamond Bar, CA 91765
Material Handling Specialist
Erdmann, Conrad L. (2007)
205 Travelers Way
Moncks Corner, SC 29461-3147
ce52gunns@homexpressway.net

---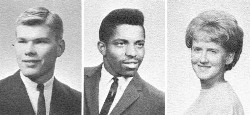 ---
---
---
---
---
---
---
Erne, Kenny (2000)
Lost, last known address:
8320 Bounty Rd
Ft. Myers, FL 33912
Lee County Sheriff's Office, Captain
Evans, Robert L. (1985)
Lost, last known address:
5866 E. 42nd St
Indianapolis, IN
Indpls Fire Dept, Diesel Mechanic
Ewell, Betty Hays (1995)
729 S. Biltmore
Indianapolis, IN 46241
317.247.7681
Ben Davis HS, Custodian
A - B - C - DE - F - G - H - JKL - M - NOP - QR - S - TUV - WXYZ
Back to the home page.