A - B - C - DE - F - G - H - JKL - M - NOP - QR - S - TUV - WXYZ
Click here for BDHS '65 Bulletin Board
Back to the home page.
---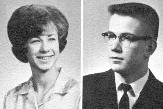 ---
---
---
---
---
---
---
Napier, Dodie
Married Tracey Tudor
Neal, Jerry (2004)
1610 Branch Dr
Champaign, IL 61821
217.359.0738
jerryneal@insightbb.com
University of Illinois
Nov 23, 2004:
"After 31 years at the University of Illinois, I plan to retire on February 28th 2005.
Iíve had a long and varied career here, Iíve been in my present unit since 1979, prior to that I was in Life Sciences, Avaition Research and the Department of Psychology (twice).
But old habits are hard to break. After staying off work for the state-mandated 60 days, I plan to return to work in the Department of Electrical of Engineering Electronics shop on May 2, 2005.
Nadine and I plan to start traveling and looking for a second, (eventually first perhaps) home in the sunbelt somewhere.
Just for laughs, I have attached a current picture of myself. I hope to make the reunion next year."
And from Jan 2000: "I fix computers, mostly workstations from Sun HP and SGI right now. I used to run the PC shop in the heyday of the PCXT, AT and Mac SE era. Been here 26 years this week. Been in Champaign since I got out of the Army in 1971.
Hobbywise, I love music, I play serious midstakes blackjack, like to travel, and like the internet and computers. I am a big fan of the local music scene. Nadine and I go out frequently to hear local blues/jazz groups. Our regular weekly event these days is the Highdive Jazz Happy hour, with a few other music lovers."
---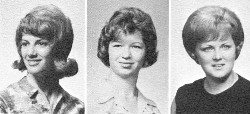 ---
---
---
---
---
---
---
Neal, Helen O'Connell (2009) (That's her on the left, too)
6910 Penrod
Detroit, MI 48228
313.410.8149 (cell)
helonwlz@yahoo.com
After I graduated in 1965, which should have been in 1964 because I was held back in the 6th grade, I got a job at Indiana Bell as a long distance operator. After working there for a year and partying all the time, I got into a bit of trouble and wound up pregnant and had to quit and move back home.

During high school, I dated Robert Don Webster from Northwest High School. (Anyone know him?) After we graduated, he joined the service and went to Germany. That's when I became pregnant, and after I gave up the baby, he came back home for a visit and I told him what happened, and he wanted me to go to Germany with him. So, I flew over there and we got an apartment together.

Well, it didn't work out, and I met someone else in the service while there, and ended up being with him the remainder of my stay there. Six months total. I came back and waited for him, and we got married at my parents house. Or so I thought. He was married when I met him and told me he was getting a divorce. I didn't see any divorce papers, just took his word for it. (stupid) After 2 years of lies, drinking and threats on my life, I finally left him and got an annulment. He pestered me for a while and finally gave up and left me alone.

When I met my 1st legal husband, Gene O'Connell, we were working at the Sheraton Motor Lodge, I think it was on Pendleton Pike at the time. He was from Detroit and working as a bartender and me as a waitress. We got married on Dec. 11, 1973, and moved to Detroit in 1975. Barbara Jean was born on March 16, 1978, and Brian Keith was born on Aug. 24, 1981.

After several jobs, I ended up at Star Auto Wash & Detailing on Warren Ave. in Detroit. I just retired from there in June of 2008 after 18 years. I have been divorced now since 1998, and met Mickey Zyskowski from the car wash and have been with him now since the divorce. We are very happy together.

My daughter Barb graduated from Eastern Michigan University in 2000 studying Finance. Then she graduated from U of M Dearborn in 2006 with MBA. She now has her own compay called WhereToFindCare.com. My son Brian graduated from high school in 1999 and is now working with Ford Motor Company as a Technician. Barb is engaged to be married to a nice young man who is in real estate. Brian is just hanging out at his dad's.

That's about it, so, thanks, Dan, for your website. It's a blast as always, hearing what everybody is doing nowadays.

Note from Dan: Helen has written the story of her lost son, and you can read it here: "After 32 Years".
Neese, Sally
Neill, Wanda
---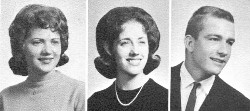 ---
---
---
---
---
---
---
Neiswinger, Donna (2005)
24264 Buckingham Way
Port Charlotte, FL 33980
941.916.5338
donna24fan@comcast.net
Married and divorced three times.
Since 1997, I have worked for Charlotte County Code Compliance, and for the last two years I have also held a part-time job as a dispatch/file clerk on Saturdays for an air conditioning company on Boca Grande.
My son Steve and his wife Deedee have four children and live in Nevada. He is service manager for a heavy equipment rental store.
My daughter Lisa is an LPN (studying for her RN), and she has two sons and a husband Marc. They live in Florida.
MY GRANDCHILDREN - Lisa's - Joe 17, Mark 11; Steve's - Keith 16, Laura 15, Megan 13, and Andrew 10.
With all of that in my life, I stll manage to belong to Beta Sigma Phi, the Evening Star Quilt Guild, Toastmasters of Charlotte County, the Illegal Dumping Task Force, and Keep Charlotte Beautiful.
I am a NASCAR fan, especially Jeff Gordon, although there are a few others I root for when Jeff is not in the top 5.
Neuhaus, Patti Scaggs (That's her on the right) (2003)
3030 Mars Hill St
Indianapolis, IN 46241
317.486.0447
vicequeenonwheels@comcast.net
Bus driver for 26 years for Ben Davis Schools
Married Art Scaggs (1964 BDHS grad); now divorced.
One son, Doug, daughter-in-law Pamela, one grandson (Connor, 5) and two granddaughters (Elise, 2, and Faith Marie, 1), with another grandchild due in July.
Nevitt, Robert (2000)
5353 N. Keystone Ave
Indianapolis, In. 46220
317.253.2495
President, Audio Electronics Co.
For all time, I would like to set the record straight about nothing behind my name in the yearbook. I always felt somewhat slighted, but I was working thru-out high school, so not a lot of activities to brag about. But I did receive a perfect attendance award for all four years. As you probably are aware cutting class was a big deal back then, and I never did. I was never late or absent for four years. No big deal, but for a high school kid, it was.
---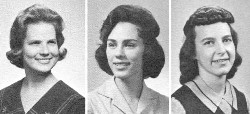 ---
---
---
---
---
---
---
Newland, Linda Blaylock (2007) (that's her on the left, too)
11464 East Contessa St
Mesa, AZ 85207
blaylock81475@yahoo.com
After graduating from BDHS, I attended college for a year (now the Univ of Indpls). I met & married Doug Newkirk. After 4 years of military and 2 years of college for him, I asked for a divorce. I moved to the Phoenix valley with my retiring parents in Nov 1974 (I'd fallen in love with the warm, dry climate here on a winter vacation in 1973). I met Bob Blaylock a month later. We dated for about 6 months, and were married in the Mesa Arizona LDS Temple in August 1975. We've been happily married for 32 years and have 5 children and 4 grandchildren (with another grandbaby due in December!).
Our older daughter married in our home and blessed us with our first two grandchildren, then divorced. She then got reacquainted with an old family friend, who loves her and her kids, and they've been married for over two years. Our oldest son married his sweetheart in the same Temple here and they have two children (and one on the way). Our middle son is married also, no children yet. His wife is in school to be an ASL (American Sign Language) interpreter. We have two still at home (a daughter in High School and our youngest son is in Junior High).
My husband works for Safeway, Inc as the HR Manager (over employment) for the Phoenix Division. I'm an aide at a local elementary school, so when the kids have "no school" days - I do too. Our youngest son has autism and I've tried to keep up with the latest with research projects. In 2002, the National ASA Conference was in Indianapolis, so I flew to Indy that July. It was great to visit with family and friends!
My last time to visit Indpls was in August 2005 after my father passed away in his sleep quite unexpectedly (here in Sun City, AZ). We brought him "back home" to rest next to my mother (who had passed away from Alzheimer's in 1988). My husband Bob and our kids had never been to Indpls, so while there my brother (1958 BDHS graduate) and I drove past our growing-up memory days and favorite places (including the "old" BDHS). I finally got to take my family to the Steak 'n Shake on Washington Street!! We also did a quick tour of the Indianapolis Children's Museum (before leaving for the airport to fly back to Arizona). Two of our grandchildren were with us and loved it !!
Bob and I just took an anniversary trip before school started again this year. We flew to Buffalo and got to see Niagara Falls, drove across New York State to Boston and back across to Pittsburgh (where our middle son had served his mission for the church for 2 yrs), then a little bit of Ohio - and flew back home. We saw some special placed that we had really wanted to see for a long time. It was a great trip for us!
Thanks, again, Dan, for the website and all you do to keep us connected & updated.
Norris, Becky Norris-Brown (2001)
118 Norris Pvt. Dr
Johnson City, TN 37601
423.434.9472
rebeccanorris_brown@hotmail.com
I graduated from Milligan College with both a BS and MEd.
I have three children (Theresa, Tamra, and Tonya) and eight grandchildren.
I am a teacher and a nurse, and I have sung professionally with choirs and symphonies. I once had the chance to join the Boris Goldovsky opera troupe in New York, but I was not able to devote the time required.
Northern, Tina (2005)
1617 Beretainia St #1104
Honolulu, Hawaii 96826
808.941.3696
northern@midpac.edu
BS from Butler University, 1969, MS and PhD in Chemistry, University of Illinois, 1976.
Taught two years in Taiwan and a year at Mercer University (Macon, GA). Went to Hawaii and got an MA in ESL in 1981, taught two years at Leeward Community College.
For past 21 years I've taught high school at Mid-Pacific Institute.
---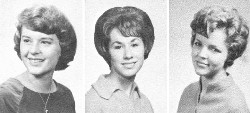 ---
---
---
---
---
---
---
Nunnery, Diana Kurtz (2000)
621 4th Ave
Bethlehem, PA 18018
610.865.5850
Family Therapist
Officer, Evon (2003)
Married Larry Nay, BDHS '64
Oliver, Debbie deceased
---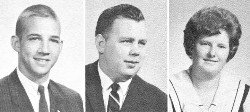 ---
---
---
---
---
---
---
Oliver, Tim (2005)
PO Box 25122
Arlington, VA 22202-9022
cell: 202.368.9743
home: 703.299.0678
subs526@hotmail.com
Booz Allen & Hamilton, Inc, Engineering Consultant
US Navy, Retired
Great effort with the web site!
I've moved to the Washington, DC area and last May I married a wonderful lady who has lived in Cincinnati for the last 20 years. Ginger is originally from Birmingham, AL, and we attended her 35th high school reunion this summer. We met through my only child, Tim, Jr, who just finished his masters in vocal performance at the College Conservatory of Music at the U of C. He and Ginger were in church choir for 4 years together before I met her! My son is a tenor, and he is pursuing a career in opera.
I've been a consultant to the Navy for Booz Allen for 8 years since my retirement from the Navy, based on my experience on five nuclear submarines, with service on both coasts and command of a fast attack submarine for 3 years stationed out of Norfolk.
Olmstead, Randall (2001)
2552 S. Harlan St
Indianapolis, IN 46203
317.787.9881
r.l.olmstead@juno.com
I am retired on disabilty. I worked for Olin Brass for 31 years (old BRIDGEPORT Brass) before I retired.
I have been married for 29 years. We have two girls, oldest is 28 years Andrea Sue, and youngest (24) is Angela Lynn. Andrea has one child, Abigail, the apple of my eye.
In 1966 went into the Army. Went to Vietnam in November 1966. Got out in May '68. went into the National Guard in 1971, retired in 1990.
O'Neal, Sue (Pamela) (2002)
I'm retired from Brylane in Indianapolis due to illness.
I'm divorced now and took back my maiden name of O'Neal. I have three sons and eight grandchildren. I have a wonderful boyfriend named Bill.
---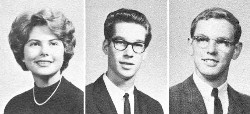 ---
---
---
---
---
---
---
Olsen, Jennifer Kelly (2002)
Husband's name is Jim; they live in the Washington DC area.
Padgett, Kenneth R. (2008)
5211 S. Asotin St
Tacoma, WA 98408
253.472.5121
picsbyken@hotmail.com
I attended IUPUI (Indiana†University†1975 grad)†and did 4 years in the Air Force.
Palencer, Gregory J. (2005)
3855 Martin Rd
Plainfield, IN 46168
317.539.2995
palgreg8@aol.com
Married Patty Emberton, former carhop at the Parkeat, now an Oncology Nurse Educator with Glaxo SmithKline Pharmaceuticals. (You have come a long way baby!)
I have two children, Cindy and Brandon and two grandchildren.
I retired from Kroger after 32 years (you don't quit after 32 years - you retire) and am working on my second retirement running a Coating Center at Praxair, where I have been for four years.
My wife and I enjoy traveling and each other. We will be celebrating our 25th wedding anniversary in San Francisco this May.
I still play in basketball and fast pitch softball leagues and enjoy running in the mini marathon.
---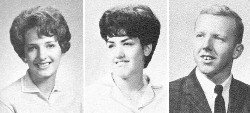 ---
---
---
---
---
---
---
Palmer, Nancy Stickney (2000)
9121 Eagle Ridge Dr
Las Vegas, NV 89134
702.228.5400
nkskactus@aol.com
After high school, Nancy got her BS at Ball State, her MS at Oklahoma City University, and her Doctorate at Nova. She runs her own consulting business, working with hospitals.
Parks, (Gloria) Lynn Miller (2003)
3131 Wintersong Dr.
Indianapolis, IN 46241
317.840.3611
lmiller@indygov.org
Still employed at the Marion County Public Defender Agency, Juvenile Division. I have been a government employee about 25 years but not at this location. I am a secretary to 6 public defenders who defend juveniles.
I have two grown children, Todd, who will be 34 next month and Tiffany. who will be 32 in October.
Neither of my children are married and to date, I am not yet a grandmother. My son lives here in town and my daughter is an 8-year resident of Seminole, FL.

Parlett, Bert D. Died of leukemia, about 1968.
---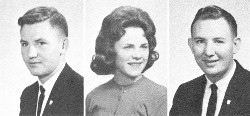 ---
---
---
---
---
---
---
Parrott, Donald (2000)
12919 N. Cresent Court
Camby, IN 46113-8423
317.831.2193
donrparrott@aol.com
GM, Metal Fabricating, Plant Engineering Supervisor
Married Brenda Walker, who is happily retired now.
Parrott, Donna Buis (2000)
129 SW 11th St
Moore, OK 73160
405.799.7343
Donna has two children, Michelle and Mike Jr. Her husband Mike died in April. Donna keeps busy with church work and the PTA, and enjoys being a doting grandmother.
Parrott, Ronald (2004) (That's Ron on the far right, too)
756 6th Ave W
West Fargo, ND 58078
701.281.8997 (home)
701.293.4625 (work)
parrottsnd@msn.com
Senior Project Engineer CNH Corporation
Wife Karen, 4 children: Kristi, Shane, Sallie, & Travis. And one grandchild: Lydia.
After leaving Indy. spent 14 years in Paris, Illinois, 7 in Wausau, WI and now about 8 in West Fargo, ND. Yes it's really cold up here sometimes; the worst I have seen is -40 with a -80 degrees chill factor.
As I recall, the '65 basketball team beat both Lebanon with Rick Mount and Washington with Bill Keller that year, and won the Sectional for the first time in 30+ years.
(Webmaster's note: Ben Davis won the sectional in 1958, under coach Marion Fine. Of course, it was his brother Evan Fine who coached us to the sectional title in 1965. A great year for us--Remember that Washington won the state championship with just two losses--one to Manual, and one to BEN DAVIS!)---Dan
---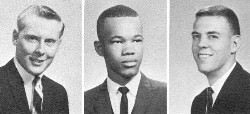 ---
---
---
---
---
---
---
Pate, Rickey R. (1995)
Eli Lilly, International Tax Council
Payne, Anthony H. (2001)
Works for Indiana Power & Light
Payne, Jerry (1995)
8311 E. 131st St
Fishers, IN 46038
317.697.5092
jtpayne@indaw.com
Since 1989 I have been employed at the Indiana State AFL-CIO, which is an organization that serves some 800+ Local Unions and their 240,000 union members throughout the state. My title there is that of Secretary Treasurer, a job which entails keeping all of the financial records in order, plus doing all the Legislative Lobbying for Indiana State AFL-CIO working families, both here in Indiana and Washington DC, with the various elected officials who represent the citizens of Indiana.
I have been married to the same wonderful woman since 1972, and we have two great sons age 26 and 23. Our oldest son Adam (AJ) lives and works in Denver, Colorado where he is employed in the commercial real estate business with C. B. Richards Company. We don't look for him to move back to Indiana because he loves the outdoor life in the mountains and skiing.
Our youngest son Andy just graduated from Indiana University, where he played Big Ten football at the position of kicker and punter. Currently he is trying to earn a job in the NFL as a kicker. Just last season he kicked a 50 and 53 yard field goal and the 53 yarder set the record for the longest field goal ever made in the IU stadium. We are all hopeful that he at least gets the opportunity at the professional level of the sport.
---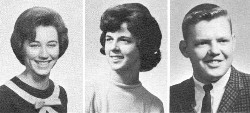 ---
---
---
---
---
---
---
Payne, Vickie Heck (2000)

Pearcy, Vera Holland (now goes by Sue) (2003)
2535 S. Rybolt Ave
Indianapolis IN 46241
317.487.1033
sue_hol@comcast.com
I married Larry Holland (1966 BDHS grad) in 1966. We are still married (37 years), we have 3 children and 5 grandchildren.
Pemberton, Steven W. (2001)
Steve works for a material handling company (after working several years at a steel company). Wife Margaret, a Decatur Central grad and now secretary at Ben Davis Junior High. They have two sons and two grandchildren.
---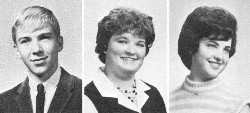 ---
---
---
---
---
---
---
Perry, Dan (2000)
7511 S Poplar Pt Drive
Trafalgar, IN 46181
harrisweld@aol.com
I enjoyed looking at the photos of my former classmates. Wow! Time really flies by.
My wife Sharon and I have been married for 29 years and have three grown-up children. Two daughters and a son. We also have two grand-children, both boys.
I have been the owner of Harris Calorific Sales Inc. for twenty-one years. It is a welding supply company. I am also a graduate of Indiana State University and a veteran of the US Army.
I hope in the future we can have a reunion. I sure would enjoy seeing some of my OLD classmates.
You have made me smile today!!!
Perry, Patricia
Pershing, Sharon
---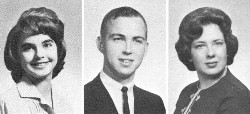 ---
---
---
---
---
---
---
Pfisterer, Mary Bruner (2004)
143 N Indiana St
Mooresville, IN 46158
mary-bruner@sbcglobal.net
I work at St. Francis Hospital in Mooresville. I've lived here 27 years, divorced now, with three sons and 12 grandchildren., been married, divorced, have 3 boys, and 4 grandchildren.
I'm a "crafty" person, and I like to garden.
Phillips, John
Deceased. Died August 19, 2019
Phillips, Linda (2004)
sostg01@aol.com
I live in Windsor, CT and have owned SOS Technology Group, LLC for the past 17 years. SOS is a provider of information, document and knowledge management solutions as well as Program Management/Project Management services for the Federal government, academia, legal and healthcare arenas.
I relocated to Connecticut in 1996 from Virginia where I had lived since 1972. I have two children, Buddy and Kimberly Lynn who are both married and live in Culpeper, VA and Owings, MD respectively. My son and his wife Angela have two daughters, Ashley Lauren and Kayla MacKenzie.
I serve on the Board of Directors of the Connecticut Valley Girl Scouts Council; Co-Chair the Women's Economic Development Initiative - a project of the Connecticut State Permanent Commission on the Status of Women; serve on the Board of Directors of the Windsor, CT Chamber of Commerce; serve as Director of Public Policy for the National Association of Women Business Owners - CT Chapter and am a member of Women in Technology International, Women in Technology of Washington, DC, Women Impacting Public Policy and US Women's Chamber of Commerce.
I travel extensively and enjoy hiking, golf, cooking, and painting. I also enjoy celebrating the lives, experiences and accomplishments of women throughout the world!
You have done a great job with the website. I have put the reunion date on my calendar and will try to attend. However, I am expecting grandchild number 3 about that time so we will see.
Phillips, James (2003)
This is his sophomore photo. Anyone know if he graduated with us?
---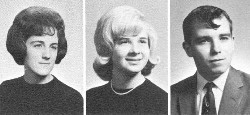 ---
---
---
---
---
---
---
Phillips, Sandra 2004
P.O. Box 51586
Indianapolis, IN 46251
317.241.8463
Fax: 317.243.5471
slp1122334@aol.com
Got this note from Sandy, Nov 2004:
"Hi Dan, 40 years is a lot to cover so hope you are sitting down lol.
After high school I worked at the phone company in various jobs including long distance operator, mobile phone operator (remember when the operator had to complete those calls) and in Network Management (I was on of the people making the recording: "Due to heavy Christmas calling, your call can not be completed at this time. Please hang up and try again later.")
I saved my money and went to IU in Bloomington. I graduated in 1972 with a BS in Recreation. My first job after that was with the Department of Defense in Vietnam. I ran a recreation center for enlisted personal and I was one of the ones you might remember from the news trying to grab a helicopter to get out at the end. I left two days before the total pullout. But I survived and overcame my shyness and, by the time I got back, got accused of taking assertiveness training. :o) You had to be assertive to get out of Vietnam alive.
After I returned I have a few jobs in recreation. ie: I was an assistant camp director for the Girl Scouts (that was a fun job); a Supervisor of Recreation at Richmond State Hospital in Richmond Indiana; and finally Director of Arts and Crafts at the Dayton Ohio VA hospital.
In 1979 I returned to school. I got a Purdue degree from IUPUI in Electrical Engineering Technology. It was a real challenge and a totally different direction to go but it was what I needed at that time. In 1983, I left Indiana and became a Test Design Engineer at Hughes Aircraft Company in Tucson Arizona. I worked on the guidance section of various missiles including the smart bomb that they have shown a lot on film of Desert Storm. I got to go overseas again during that effort. I was at Hughes for ten years; then it was time for another career change.
I decided I wanted to use my intelligence to build something besides missiles. I started studying again and passed my test for licenses to qualify me to be a financial advisor. My analytical and problem solving training I got in Engineering is a big asset in this field. So now I am building retirement planning and financial security for individuals and small busineesses. I was a rookie in a major brokerage training program for two years. I got excellent training there but it was not the right environment for me. From there, I became an Investment Advisor Team Leader for a bank. In 2000, I left to start my own independent practice. That suits me well since I can research and provide financial advice to individuals and small business without being tied to any proprietary products. In other words, I can find the best solution for the client instead of what brings an employer the most revenue. I extented my training past the basic broker training and am a Register Investment Advisor. I can direct my clients to stocks, bonds, mutual funds, retirement plans etc. The majority of my clients pay me an advisory fee instead of the traditional commissions so there is no conflict of interest...the better I do for my clients the better I do for myself so its a WIN-WIN situation. I love my job and am very glad I made this final career change.
You asked where I live now...... I grew up in Clermont and my family remained there past my graduation from IU. Now I still live on the west side but am within walking distance of the old BD high school. The broker dealer I clear thru has a branch office in Carmel but I mostly work from my home and meet my clients in their homes. So after traveling the world you might say I am back home.
I do remember you from high school. I think we had a class or were in a club together. Like you, I was very shy. Most of my friends were people I had known from Clermont. People like Dottie Miller, Anna Collins, Chuck Farnsley, Michelle Norquest, Cheryl Kelly are a few that come to mind. I was on a board of directors not that long ago with Mike Linn.
Isnt it interesting that you and I (both so shy) end up in public contact jobs.....my clients and your radio work.
You have done a nice job on the website and I know its taken a lot of effort. Thank You."
Piercy, Sharon Peterson (2000)
442 Vista del Mar Drive
Aptos, CA 95003
sypeterson@hotmail.com
What a great job you did on the BDHS website. What fun it was to see what old classmates are up to. Too bad more of them don't respond!
Anyway, here's my latest info. We were only in New York for a couple of years. In February 1997 we moved back to California to the Monterey Bay area.
My husband, John, and his partner own Ripcord Games which is a software publisher of PC games and Sega Dreamcast games(www.ripcordgames.com). I work there as well as the Office Manager.
John and I just celebrated our 32nd wedding anniversary. We have two sons, Sean and Eric. Sean is 31, divorced and is the father of our beautiful 11 year old granddaughter, Kimberly. He is a physical ed teacher at a local high school. Eric is 28, single and lives in Portland, OR. He is a sales rep for video/console game products.
My parents retired and moved to San Diego in 1985 so I see them quite often. My brother and sister are still in Indianapolis but I don't get there very often. They would much rather visit us in sunny California.
Plummer, Charles B.
Received a Purple Heart in Vietnam, but nobody has seen or heard from him in years.

Pingleton, Janet (2003)
Sophomore photo. Did she graduate with us?

---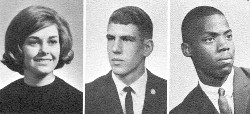 ---
---
---
---
---
---
---
Plummer, Linda Teeter (2005)
llteeter1@aol.com
In 1969 I married Dave Teeter (BD class of 64). We have two daughters, Elizabeth and Christina, and a new baby grandson.
The only person I have kept in touch with from BD is Carol Whiten Dolder. We were best buddies in grade school and I still consider her a wonderful friend. Life is good. Best wishes to all.
Porter, George
Deceased. Died of heart disease (?) at age 46, so that would have been about 1992 or 1993. He was a science teacher at Beech Grove High School for 23 years. He was active with the Boy Scouts, and he taught sailing and windsurfing for the park department. He graduated from IU and got his masters degree at Butler.
Porter, Ronald E. (2001)
Recently retired from Eli Lilly.
---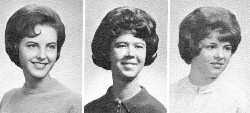 ---
---
---
---
---
---
---
Powell, Carol Lee (2006)
926 Antigua Ave
Salinas, CA 93905
831.424.5372
suelee@redshift.com
Have three sons and one grandson. Am working at HSBC as a Sr. Systems Analyst. Am looking forward to retiring soon and traveling†to some of the beautiful places I've seen in pictures.
Power, Sharon Wycoff (2001)
4121 Moline Dr
Indianapolis, IN 46221
317.244.6596
swreliant@comcast.net
Hi Dan, it was good to hear from you. What a great idea you had to put our graduating class of "1965" on the Internet.
My life started 8 days after graduation. I married William C. Wycoff,a Decatur Central grad. We have 4 boys, Alan, Jeff, Scott and Ben.
We have 7 grandchildren, 4 girls and 3 boys. Bill and I love to travel and camp. We have been to Hawaii, the Bahamas,and St. Marten.
I work for my husband as a bookkeeper. He started a Reliant Engineering Inc., a D.N.A. machine shop,15 years ago. Well that wraps up my life and it sure has gone by fast.
Pratt, Mary
---


---
---
---
---
---
---
---
Prosser, Larry (2002) (Larry now and then)
1206 Chestnut Lane
Lebanon, Indiana 46052
l.prosser@insightbb.com
Wiese Material Handling-Lafayette, Parts Manager
Wife Debbie, no children
A - B - C - DE - F - G - H - JKL - M - NOP - QR - S - TUV - WXYZ
Back to the home page.