A - B - C - DE - F - G - H - JKL - M - NOP - QR - S - TUV - WXYZ
Click here for BDHS '65 Bulletin Board
Back to the home page.
---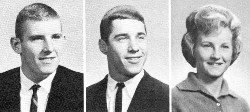 ---
---
---
---
---
---
---
Hackleman, (Harry) Stephen

Hale, Dan (2000)
Indianapolis
ddogg@indy.rr.com
Owner, Broad Ripple Lawn Equipment
Still in Broad Ripple and beginning my 28th year as mechanic and partner at Broad Ripple Lawn Equipment. Martha, my wife, is teaching a kindergarten literacy class (her 34th year of elementary teaching). Our son, Aaron (age 27) was married on Dec. 30th, to a very neat young lady named Molly Butters. A lovely couple. They live in Sunnyvale CA, where Aaron works as a software specialist in a hardware department at Sun Micro-Systems. Our daughter, Whitney (age 25) is a props carpenter at The Goodspeed Opera House in East Haddam, CT. So at this time in our life, we have become bi-coastal in our travel destinations.
Hamilton, Sheila Schwartz (2001)
SSchwa7152@aol.com
Husband Rick Schwartz is from BDHS Class of '66; they have four daughters.
It's good to hear from people I went to school sooo many years ago. It really doesn't seem that long though.
I live in Phoenix, Arizona and just love it here. Nice weather year round. I don't miss the snow at all. We have been here for 6 years now.
---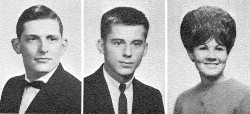 ---
---
---
---
---
---
---
Hardin, Joseph A.
Harding, David R. (2000)
125 Centennial Rd
Martinsville, IN 46151
765.342.3693
Postman in Martinsville
Harmon, Dianna (2004)
(color photo Christmas 2000)
6571 Coyote Lane #C
Indianapolis, Indiana 46214
317.243.7747
dee62647@aol.com
After high school I attended medical/dental assistant school. I have worked in the medical field all these years and am presently with American Health Network after numerous years with St. Vincent, IU School of Medicine, and Clarion Health.
I enjoy traveling (Vegas-Florida) and boating with my sister Sandy and her husband Jerry. I'm a pretty big Pacer and Indians fan, having worked for the Indians at Victory Field during our summer breaks from high school.
I renewed my interest in skating when Melody Skateland had it's "last skate" a few years ago. However, a very serious skating injury changed all that for me, and I am back to taking care of my tweety birds and leaving the skating to the kids - too bad because I was pretty darn good at it!
---

---
---
---
---
---
---
---
Harmon-Glassing, Sandy (2004)
(color photo, Christmas 2000)
6527 Springview Drive
Avon, Indiana 46123
317.839.3259
skg13046@yahoo.com
During high school I married Bob Swails and we had a son Robert who lives in Vegas and works for the school system. I divorced and went to Honolulu, Hawaii where I married and had my daughter Dawn René Leilani. Dawn has her degree in Psychology and is a nurse. She is recently married and works for Clarion Health with Lilly research doctors.
My true love came later when I married Jerry Glassing from our rival school George Washington H.S. Jerry is a 38 year veteran railroad engineer (CSX) and we live in Avon, Indiana. Jerry and I love to travel - Vegas, Bahamas, Mexico, Florida, all over! We are on our fourth boat and travel Indiana, Kentucky and Tennessee to enjoy the many beautiful lakes. We often take my mother who will be 79 next year and my sister Dianna Harmon.
I work part-time for the Hendricks County Convention & Visitor's Bureau in Danville. After years in the medical field, I needed a change. Jerry will retire in three years and by then we hope to have some grandchildren to keep us young.
Harmon, Steven D. (2000)
Married Jerry Roy (as per Sandy Harmon)
Harrell, Janice Owens (2005)
5504 Dollar Hide N. Dr
Indianapolis, IN 46221
317.856.6014
jiowens426@sbcglobal.net
Raytheon, Defense Contract Management Office
Janice has three children and two grandchildren, with a third due in early February.
Her family is into camping; started with a tent and now have an RV.
---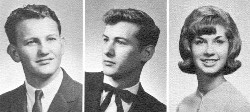 ---
---
---
---
---
---
---
Harrell, Woodie (2004)
Holiday, Florida
msjudyjudy1313@aol.com (Sister's email)

Harris, Ronald D. (2006)
randbharris@sbcglobal.net

Harrison, Margaret Raigner (2002)
4437 Clayburn Dr
Indianapolis IN 46268
317.879.8763
meraigner402@yahoo.com
RN at 86th St St Vincent's in the ER.
Nov 21, 2002: "I've been married to Ken Raigner (Mars Hill) for 28 yrs. He was in our Frosh class, then moved to Mississippi and graduated there.
We have two teens 14/17 and live in Westfield,IN.
Our old Drexel Gardens was a senior citizens gathering hole. I haven't been in that direction for yrs.
I saw Judy McSchooler-Allen-Bolin for lunch recently..neither of us has aged or 'spread' at all. At least that's what we told each other."
---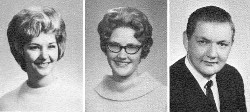 ---
---
---
---
---
---
---
Hartman, Anita
Haskell, Linda Burrell
Deceased. Died January 1, 2006. From the Indianapolis Star: "Born June 12, 1947 in Michigan City, IN, she had lived in Lafayette since 1976 coming from Binghamton, NY. Mrs. Bunnell graduated from Ben Davis High School and received her Bachelor of Science in Secondary Education from Indiana University. Her marriage was to Charles A. "Chuck" Bunnell August 30, 1969 in Peru, IN. He survives. She was a member of St. Boniface Catholic Church and involved in a number of the ministries there. She enjoyed traveling, collecting, and reading. Surviving along with her husband are two daughters Tanya Ramey of Dayton, IN, and Susanne Spence of Madison, WI. Two sisters Sandra Smith of Plainfield, IN, and Barbara Sears of Lebanon, IN, also her mother Mary Haskell of Indianapolis, IN. And 4 grandchildren. Preceded in death by her father Robert E. Haskell."
Hattery, Robert E.
---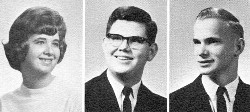 ---
---
---
---
---
---
---
Hawkins, Brenda
Hawkins, Bob (2008)
8430 Stonewall Dr.
Indianapolis, IN 46231
fatfingerbob@comcast.net
I retired from the Speedway Police Dept in 1990 as a Detective Lieutenant after doing my twenty years.
I worked on my own as an interior trim carpenter for about ten years and then in a moment of delusion or something went back to work for Speedway in their Communications center. It's really been a challenge to adjust to the changes ten years have brought.
I am still happily divorced after these many years and don't see any prospects for change.
My newest passion is a motorcycle. This machine has received only negative reviews from friends and family. I really don't have any sort of death wish; I just enjoy the fun of riding.
Haynes, (Clyde) David
Hayden, Robert (also color photo) (2005)
451 S. Luett Ave
Indianapolis, IN 46241
317.247.0660
a77racer@aol.com
Air Force from 1968-72, Munitions Specialist, stationed in Idaho, Thailand, and Las Vegas.
Retired from Allison's Transmission Plant in Speedway 2000; started with them in 1966. When I retired I was in the Product Test and Engineering department.
Marriage history:
1965-67--Karen Clements. Daughter Teresa, who has 3 boys and a girl.
1968-76--Roberta Wise.
1980-98--Ruth Reffett. Son Tracy, daughter Terri, both BDHS grads. He was a pro wrestler for a while, now a Firefighter\EMT with Decatur Township. We both served as volunteer firemen for Wayne Township.
From 1977 to 1990 I raced stock cars, USAC midgets, and an IMCA modified. I finished building a Hotrod from a 1954 Chevrolet in June. You can check it out, and my other Albums, at: http://www.picturetrail.com/a77racer.
---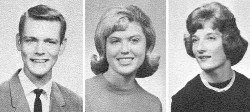 ---
---
---
---
---
---
---
Head, Mike (2001)
Carmel, IN
mhead@indy.rr.com
I have a 21 year old son who is going to IU, taking Sports Marketing/Business Management and Telecommunications with the intent of becoming the next Harry Carey. I got lucky and ended up with a great kid who takes after his mother Mary, who went to Yorktown High School, Ball State and recently completed her Masters Degree at IU. I somehow found my niche in life to be sales and anything to do with computers and software. I have been involved in sales of application software primarily to the Health Care Industry.
I owned and operated my own marketing company from 93-99, but a failing back caused me to sell the business. The wonders of modern surgery have returned me to my original ornery self and I am once again being the good American and paying taxes. :-)
My immediate goal at the moment is retirement. Sounds good to just sell out, get a motor home and have the time to see all the things I missed on numerous business trips. Life is short and getting shorter, so time to enjoy.
Heath, Carolyn Hausman (2006)
North Port, FL
941.429.0167
ch5902@comcast.net
From the Sarasota Herald-Tribune, Nov 11, 2004
Carolyn Hausmann had waited a dozen years for the day when bulldozers would crack the earth and developers would announce the start of her new, larger Broadway Bar and Restaurant.
But when the day came Wednesday, under a white tent with a soft breeze off Sarasota Bay and morning rush-hour traffic chugging by on North Tamiami Trail, Hausmann was nowhere near.
She didn't hear developer Mitchell Rice praise her "support and vision" that had helped create the $30 million, mixed-use project.
Instead, Hausmann was home, away from the developers and real estate agents and city officials and champagne and silver-plated shovels.
Miles from the tent and kickoff for the new Broadway, Hausmann was dealing with the lingering effects of the cancer that changed her life when she detected it in February.
At the time, she was busily running the Broadway, Sarasota's oldest restaurant and one of the first bars in the state to get a liquor license when it opened in 1925.
Life was good. The Broadway's thin-crust pizza had achieved legendary, cult status. Customers were loyal.
And Hausmann was about to realize her dream of doubling the restaurant's size, thanks to a deal with Tampa developer RMC Property Group Inc.
RMC envisioned a development with a Publix supermarket and nearly 200 residences. The 1950s-era Broadway would also be razed. A new restaurant would be constructed on the six-acre property at 10th Street and U.S. 41.
But during a routine self-exam, Hausmann, 57, noticed a lump in one breast. The cancer was an unusual strain, so aggressive and so potentially deadly that doctors didn't even bother do a biopsy. One physician described it as "the real deal."
She was operated on one week later.
"I didn't have much time to get my ducks in a row," said Hausmann, who inherited the restaurant from her uncle. "If it hadn't been for the project, I don't know what I would have thought of. It gave me something to stay focused on."
Since the operation, she's survived gut-wrenching chemotherapy sessions, pulled through more than three dozen radiation treatments, and endured CAT scans, blood tests, doctors' visits.
She's had some nice surprises, too.
"I'm amazed at how people came through for me," Hausmann said.
Consider her two sons. Both Eric and Fritz dropped everything and moved to Sarasota when they heard about their mother's illness.
They helped run the restaurant. They took her to the doctor and to treatments.
Even now, Eric has yet to return to Chicago. He plans to stay until his mother is fully recovered. Fritz comes down from Washington, D.C., about once a month.
Hausmann admits that during the grueling illness she thought more than once about abandoning the Broadway, which closed in July in preparation for the redevelopment.
But when those thoughts came, she'd think about how much she had already endured.
Like when her uncle died and she took over the Broadway with zero restaurant experience. At the time, Hausmann was working as a graphic designer in Virginia.
Or how her uncle's North Carolina-based bank said the North Trail property was worthless.
In the days before the luxurious Sarasota Bay Club and Renaissance condominium towers sprouted nearby, the bank decided the Broadway was in a blighted area.
Hausmann had to go to court to stop them from selling it out from under her.
And there was the disease, of course.
Now, nine months after it was discovered, Hausmann's cancer is in remission.
She is looking forward to hitting the five-year milestone of being cancer-free, and to inspiring other patients.
And she is looking forward to reopening the Broadway late next year.
The new restaurant will be a three-story pizza emporium, with touches of the old place: red-and-white checked tablecloths, jukebox music, the smell of baked cheese, the curved mahogany bar.
"I just felt this was the right thing to do," Hausmann said. "I feel the Broadway is a piece of Sarasota."
Herner, Dorothy Moore (2005)
5747 N. Placeta Bacanora
Tucson, AZ 85718
520.529.0860
Home after 28 years in Saudi Arabia. My husband Michael died there in 2002, and my kids and I returned to the United States. Mary is 18 and Peter is 26, recently married and living in Florida.
I'm still finding myself as a single person in a foreign land :) .
---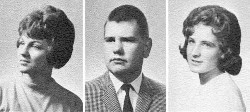 ---
---
---
---
---
---
---
Herschell, Georgia
Hess, Phillip
Deceased, died April 6, 2020.
Hinders, June Richie (2003)
3962 Diamond Ct
Indianapolis IN 46254
317.291.5889

Hildebrand, Sharon (junior picture)

---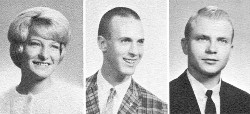 ---
---
---
---
---
---
---
Hocker, Peggy
Hockman, Myron E. (2001)
5815 Furnas Rd
Indianapolis, IN
317.856.4986
indyhock@comcast.net
I live in Indianapolis, still married to my first wife for 32 years this year. She is a graduate of Lawrence Central.
After high school I attended a small Christian College in Knoxville, TN. I was in the Christian Church ministry for 10 years, an insurance adjuster for 10 years and presently I am a Deputy Prosecuting Attorney. For the past five years, I have prosecuted in the area of domestic violence and child battery.
I have one son, Chris, who lives in Knoxville, TN with his wife and he is working on a MBA in Finance and Accounting at UT.

Hoffman, Dan (2005)
8716 Prairie Trail
Avon, IN 46123
Home 317.272.2620
Office 317.408.8341
Hoffman Pools
Dan has worked in the pool business since 1967. He also does a lot of snow removal in the winter.
He and his wife have a son who is a student at IUPUI. He enjoys visiting Las Vegas, but more for the shows than the gambling (he says!)
---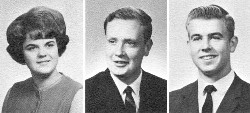 ---
---
---
---
---
---
---
Holloway, Charlotte Douglas (2001)
3505 Cherry Creek Ct
Conyers, GA 30013
770.929.1903
Husband Jerry
Hooper, Ron (2000)
467 N. O'Dell St.
Brownsburg, IN 46112
317.858.0765
rhoops@indy.net
CPA, CFP, self-employed
Hope, Oscar (2000)
5925 S. Spring Canyon Rd.
Ogden, Utah 84403
Four Years at I.U. where I was a prominent part of the "Fascist Military" (B.S. in Ed) followed the senior year at B.D. The next nine years focused on flying fighters (my first love) for the A.F. in several corners of the globe.
During this time I married Ruth Luebke of South Bend. When our son Geof was four we divorced (see love priorities above). He is now a Capt. in the A.F. at Hurlburt AFB, Fl. and married to Lisa Lawn.
In 1978 I switched to the AF Reserves and joined Continental Airlines. After an adjustment of priorities I found in Laurie MacKenzie a kindred spirit with whom to share the rest of my life. We were married in 1983 and now have two children, Kristin (12) and Colin (5).
Laurie and I have both retired from the A.F. after 30 years. Presently, I am a Flight Instructor at Continental and Laurie tells me where to go via her position as an FAA controller at SLC tower.
We love to travel - planes, RV, car, you name it - skiing, hiking and most of all, doing things with the kids.

---

---
---
---
---
---
---
---
Hopper, Cathy Faires (2003)
7881 Patterson Dr
Avon, IN 46123
317.272.2170 (home)
317-838-1768 (work)
dfaires@peoplepc.com
PSI Energy
Married Dennis Faires
Hopwood, Denise (2006)
7206 E. 300 South
Greenfield, IN 46140
765.565.6526
dehoropo@earthlink.net
Hi Dan, how wonderful for you to put this together. I am currently with my "spousal equivalent" of 15 years, Robert.
After Block's, I became the Visual Home Store Coordinator for Lazarus Indiana Stores. After leaving Lazarus in 1997, I started working with Robert for Interior Specialties, and I am now a union carpenter. I have worked on the new 9th grade building at Ben Davis as well as Caesars and Belterra casinos. I have worked on many schools, hospitals and prisons all over the state.
I have one son, Darby 37, and 2 grandchildren, Aaron and Julia, ages 18 and 12 respectively. We bought a home in a rural area in Greenfield, IN. where we raised English Mastiffs for a while. We still own 2, as well as 3 Westies and a Doberman.
Howald, David (2003)
PO Box 183
Brazil, IN 47834
812.448.2727
howaco@aol.com
Residential Builder, self-employed
Howard, Saundra Meko (sophomore picture) (1995)
2609 Braden Pl
Riverside, CA 92503
909-353-0677
Retired Cosmetologist
---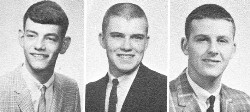 ---
---
---
---
---
---
---
Huber, George T.
Huddleston, Stephen L. (2001)
298 Creekside Dr
Franklin, IN 46131
317.738.3680
stephen306@aol.com
The last I heard about Steve, he was a very successful lawyer in Franklin, Indiana. His wife, Sandy taught and was from Scottsburg, Indiana. I am not sure, but they had two or three children. I believe that all have graduated from college. (From Gayle Wendell, who was once married to him).
Huff, Lee Roy
---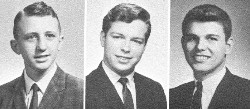 ---
---
---
---
---
---
---
Hughes, Dan (2003)
1707 W. Park Ave
Champaign, IL 61821
217.351.1680
danhughes@juno.com
http://danhughes.net
Parkland College, Broadcasting Instructor
WPCD-FM, General Manager
More than you care to know about him by clicking here.
Hunt, Charles L. (2003)
10251 Lakewood S. Dr
317.247.8188 (work)Brownsburg, IN. 46112
chun1@amfam.com
American Family Life insurance, Speedway
Charlie Hunt married Kim while he was with the Army stationed in Korea. They have been together for about 34 years with 2 girls, Cheryl and Tanya, and 2 grandbabies. Micah and Vivian keep them busy.
Charlie is an insurance agent with American Family while Kim has a gift and flower shop.
Hutchings, Tom (2000)
419 Westmount Ct
Indianapolis IN 46234
317-271-2317
jhutchings47@yahoo.com (This is his wife's email)
Tom is Vice-President of L. D. Mechanical Contractors in Franklin, IN. He has been with this firm for 30 years.
He and his wife, Jackie, have been married for 27 years. Jackie previously taught elementary school in Indianapolis and currently teaches pre-school in Speedway.
They have two daughters, Amy (BD class of '96) and Courtney (BD class of 2000). Amy graduated from Hanover College and is now in grad school at Ball State. Courtney is a freshman at Ball State.
---

---
---
---
---
---
---
---
Hutsell, Louis W.

A - B - C - DE - F - G - H - JKL - M - NOP - QR - S - TUV - WXYZ
Back to the home page.