A - B - C - DE - F - G - H - JKL - M - NOP - QR - S - TUV - WXYZ
Click here for BDHS '65 Bulletin Board
Back to the home page.
---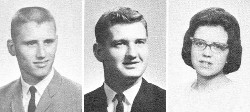 ---
---
---
---
---
---
---
Garrison, Wayne (That's him on the left) (2005)
5528 Hill Rise Dr
Indianapolis IN 46237
317.787.4952
wgwhiterabbit@sbcglobal.net
AT&T, Methods Analyst
Gary, Jon D. (2004)
8811 Beckford Drbr> Indianapolis IN 46234
317.271.4748
jongary@sbcglobal.net
Four years in the Air Force as a Personnel Specialist at Chanute in Illinois, many jobs since then, currently in sales.
I have five kids and four grandchildren, and I enjoy golfing.
Gentry, Sharron
Deceased. Died January 1984, cancer.
---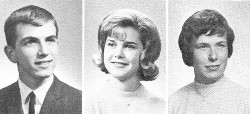 ---
---
---
---
---
---
---
George, David A. (2005)
Salem State University
Salem, MA
Theatre Professor
German, Suzie McKay (That's her on the left) (2005)
6546 Churchman Avenue
Indianapolis IN 46237
317.783.4397
mamawsuz@sbcglobal.net
Husband Bruce
I work for National City Bank in Indianapolis as the department manager in charge of the automated teller machines throughout the entire state of Indiana.
I am a mamaw to a wonderful 4 1/2 year old grandson. His mom and dad only live about 25 minutes away in Greenwood and we visit frequently.
Our other son has finished his degree at Ball State. He spent four years in the Franklin Central Marching Band and won the Indiana State Fair Band Contest three times as a student and once as a drum instructor. Deja vu!! It was just as exciting being there as it was when we were in the contests.
Bruce and I have been married for almost 32 years. He works for the State of Indiana. Would love to hear from any former classmates.
Gerth, Marjorie Kuehn(2004)
12113 Western View
Oklahoma City OK 73162
405.721.7876
Fax 405.722.0121
Cell 405.826.6583
marjorie.kuehn@spcorp.com
BS-Langston University 1985
MBA- Oklahoma City University- 1994
Employed at Schering Plough as a Medical Center Specialist
Status--single
Grandkids-7 from 2 sons
---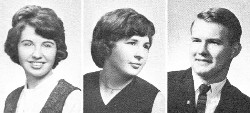 ---
---
---
---
---
---
---
Gibson, Betty Weddle (that's her on the left, too) (2005)
9576 N. 200W
Fountaintown, IN 46130
317.835.7703
melweddle@sbcglobal.net
Husband Mel (married 33 years!), two children (33 and 30), and two wonderful grandchildren.
Worked several jobs over the years; secretary, Goodwill Industries, Brownsburg Schools (White Lick Elementary).
For the past thirteen years I have worked part-time as an accountant.
My husband and I are both very active in church work; I teach a junior high sunday school class.
Gibson, Jackie Meyer (2001)
25 N. Brandt
Indianapolis, IN 46234
Housewife
Gilley, Bruce
deceased, motorcycle accident in Arizona, Oct 1979
---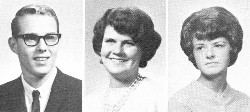 ---
---
---
---
---
---
---
Gilliam, James R.
Gilmore, Lelia
Gipson, Debbie Fannin (2001)
Married for 35 yrs to Dick Fannin, and they have 2 married children, a son and daughter. Her son just gave them their first grandbaby, a little girl. Her daughter is studying to become a nurse.
---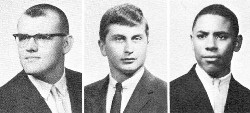 ---
---
---
---
---
---
---
Givens, Ralph A.
Deceased. Died August 13, 2008.
From the Indianapolis Star, August 15, 2008:
NOBLESVILLE -- Former Noblesville Police officer Ralph Givens, who had played Santa on the Square for the past seven years, was found dead Wednesday in his home at Westbrook Village.
Noblesville Police Lt. Bruce Barnes said Givens, 61, died of natural causes.
Two or three day-shift officers found Givens when they went to check on him after no one had heard from Givens in a couple of days, said Barnes.
Personnel records were not available at press time, but Barnes said officers believe Givens was on the force 16 or 17 years, beginning in the early 1970s. He took a medical retirement, according to Barnes.
"He was retired before I arrived (in 1993), and I never heard a bad word about him," Barnes said.
Givens was one of Lt. Tony Craig's field training officers, and the two had remained close.
"Ralph was an absolutely super individual," said Craig, who was among the officers called to Givens' home.
Lori Schwartz, Noblesville, co-owner of Schwartz's Bait & Tackle, got to know Givens when he was a police officer. After his shifts, she said, Givens would often grab a cup of coffee and go fishing on the river from her store.
"He loved to fish," she said.
"It was such a shock" to hear of Givens' death, said Schwartz, calling him a wonderful person. "I can't believe he's gone. I just saw him last week."
Schwartz said Givens would volunteer to play Santa for anybody who requested, although he had told her his health likely would keep him from playing the role this year.
"To me, it's more than a job. It's the spirit and the kids. I look forward to this every year," Givens said.
Glass, Edgar G.
Glover, William M.
Goad, Yvonne Barton (junior picture) (2005)
6939 Mystic Lane
Sarasota, FL34243
ycb1@aol.com
Retired from Eli Lilly Pharmaceutical; worked there 26 years.
I did not graduate with the class of 65; due to getting married at a very young age. Yick! Although I did go to nite classes and graduated from George Washington High School one year later. Yick!
Widowed for ten years, one daughter who is a nurse.

---
---
---
---
---
---
---
---
Goldman, Joe A.
Goodman, Lavonia Hembree (2005)
3624 Mayflower
Indpls., IN 462221
vonnie3624@sbcglobal.net
Married Tom Hembree, as per Sandy Harmon
Gorman, Mary Ramey (2003)
52752 E. Cypress Cr
South Bend, IN 46637
574.272.5763
Husband Henry, three children, three grandkids. Enjoys camping, and owns a 39-ft trailer at Woodhaven Park in Illinois.
---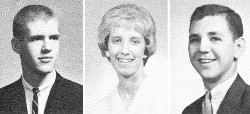 ---
---
---
---
---
---
---
Gorsage, Mike (2005)
8709 Cranbrook Court
Bethesda MD. 20817
301.466.7080
mike@gorsage.com
Hey Dan, Thanks for all the effort to put up the web site.
Married an Ohio girl(Lynne) in '74, and we have one 14 year old son.
After high school, graduated from Indiana State in '69, then was in the U.S.M.C.'69-'72.
Occupation: Commercial Real Estate, investment sales and development of shopping centers.
Groseclose, Shirley
Gross, Jack I.
---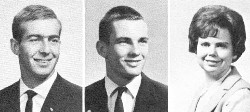 ---
---
---
---
---
---
---
Guney, Oguz (2003)
C/O METAFRAX S.A.
rte d'Hermance 366
CH - 1247 Anieres/GE
Switzerland
Geneva, Switzerland
+41-22-774.15.95
guneyoguz@yahoo.com
Trader, chemical products
Gunkel, Roger L. (2002)
3957 Tulipwood Ct
Bloomington, IN 47404
812.334.2726
Gwaltney, Sharyn Lakin (2002)
110 Bridgeport Road
Indianapolis, IN 46231
317.271.6627
waterdame1@aol.com

A - B - C - DE - F - G - H - JKL - M - NOP - QR - S - TUV - WXYZ
Back to the home page.