A - B - C - DE - F - G - H - JKL - M - NOP - QR - S - TUV - WXYZ
Click here for BDHS '65 Bulletin Board
Back to the home page.
---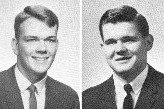 ---
---
---
---
---
---
---
Sailors, David A.
Scanland, Jackie A. (2003)
3596 S. County Road 200 W.
Greencastle, IN
765.653.6982
---
---
---
---
---
---
---
---
Schanne, Linda
Schenk, Linda (2001)
703 W. 1250 N.
Milford, IN 46542
574.658.4767
Cancer treatment center.
Four kids, one grandchild, active in church work.
Schooler, Joan Ridenour (2000)
300 Duffey St
Plainfield, IN 46168
317.839.3903
Worked at Methodist Hospital, Secretary for Director of Radiology, until a bad car wreck two years ago. Starting to get back into the swing of things, and she highly recommends that everyone be sure they have a LOT of health insurance!
---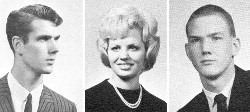 ---
---
---
---
---
---
---
Schrader, Jack (2001)
(correct last name is Srader; it was misspelled in the original yearbook)
317.273.9908
sraderb@iei.net
Truck driver last three years; ran his own lawncare business for ten years.
Wife Bertha, two sons.
Schrader, Sandra
Sercer, Mike (2007)
8575 N County Road 650 E
Brownsburg, IN 46112
317.852.7669
serc1mp@sbcglobal.net
Indpls Power & Light, Communications Engineer, hoping to retire in summer or fall of '08
---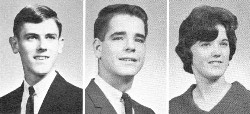 ---
---
---
---
---
---
---
Sexton, Bob (left color photo) (1995)
Lost; last known address:
73 Queensway Dr
Danville, IN 46122
317.272.2200
Oral Maxillofacial Surgeon
Shackelford, Bill (right color photo) (2005)
5455 N. Glenwood Ave
Chicago, IL 60640-1257
773.728.5054
bill@tarnhelm.net
http://www.tarnhelm.net
Moved to Chicago after going to IU and working there. Worked in IT and consulting and teaching in Project Management.
Stayed active in music as a performer and later as a critic, writing for Opera magazine (London).
Sang in the 2004 reunion of 7 Last Words, where Geraldine Miller conducted the final chorus.
Shaffer, Cecilia
---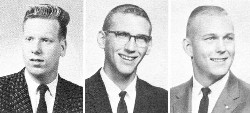 ---
---
---
---
---
---
---
Shake, Lew (Left color picture) (2002)
6938 Kentland Dr
Indianapolis, IN 46237
317.787.4057
lshake@comcast.net
One son: Ray Daniel Shake - 27. I married Linda Goodwin (who attended George Washington High School) in 1968, and we divorced in 1969. Remained single until 1994 when I remarried Linda after her second marriage failed in 1992. Still too many issues, and we were divorced for the second time in 1995.
My second/third? (second person/third marriage) wife, and last, is Rise (pronounced Risa) C. Roessler (Beech Grove, U of I grad) and we were married in 1998. I really got lucky this time!
I produced Air Shows in Indiana in 1981 - 1988. The first one in Columbus, Indiana and the rest at Mount Comfort Airport. This was my hobby!
Sharp, David (Right color picture) (2002)
6449 W. 12th St
Indianapolis, IN 46224
317.243.3172
david_sharp@praxair.com
Praxair Surface Technology--project specialist
Sharpee, Steven A. (2005)
From the Culver Military Academy website:
Mr. Sharpee graduated from Ben Davis High School in Indianapolis and attended Western Kentucky University in Bowling Green, Kentucky. He graduated in 1969 with a BS degree in Physics/Mathematics and received his MS in Physics/Mathematics from Purdue University in 1972.
His 20 + years of teaching experience is augmented by 14 years of business consulting experience with such corporations as Xerox and Burroughs and having his own consulting firm for seven years.
Prior to coming to Culver, he taught one year at the Indiana Academy and was a Visiting Professor of Physics for Ball State University and was named "Outstanding Educator Fellow". In 2000, he was listed in "Who's Who of American High School Teachers".
---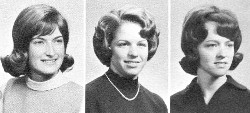 ---
---
---
---
---
---
---
Sheets, Cathy Hiatt (That's her on the left) (2008)
556 Plymouth Rd
Bloomington, IN 47408
812.339.7388
rhiatt@indiana.edu
Husband Richard.
I'm the store manager of the Wooden Key Hallmark in Bloomington. In my spare (?) time, I garden and birdwatch--any excuse to be outside.
Dick works at I.U. in administrative computing. We settled in Bloomington in 1973 and have enjoyed our life and raising our sons here.
Chris lives in Brooklyn and is the spirits buyer for a wine and spirits store (liquor to all us Midwesterners), a French Culinary School graduate and a musician. Jeff is an I.U. Music School graduate, recording engineer and musician in Philadelphia.
Shell, Dana Caserotti (2005)
6753 S. Derbyshire Rd
Indianapolis, IN 46227
317.787.6556
I've been married for 37 years and will still be working for at least a couple more years.
Shepherd, Linda
---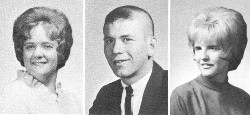 ---
---
---
---
---
---
---
Sheppard, Mary Beth Baugh (2005)
830 Aberdeen Dr
Indianapolis, IN 46241
bmwz3beth@yahoo.com
Paralegal
Shipp, Robert
Deceased. Died December 1, 2018.
Obituary: http://www.matthewsmortuary.com/obituary/robert-shipp
Shives, Nancy Duell (2008)
duells@sbcglobal.net
She is retired from the Hendricks County Clerk's office.
---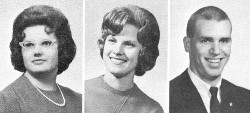 ---
---
---
---
---
---
---
Shropshire, Barbara (2005)
819 S. Manhattan Ave
Indianapolis, IN 46241
317.244.8651
barb2008@att.net
Eli Lilly, Technical Service Laboratory. Celebrating 26 years at Lily in January.
Also run a home business doing silk flower arrangements.
Slone, Sharon Bain

Smiley, Roger (2005)
3394 Pimlico Parkway
Lexington, KY 40517
859.271.5250 home, 502.564.2888 work
lexroger@aol.com
College at Indiana State University, married in 1968; daughters born in '71 and '78.
US Army '69 - '71, then 25 years (working!) in psychiatric hospitals.
Have worked last eight years with Kentucky Inspector General.
Wife Sally retired from teaching this year and I hope to join her soon.
Oldest daughter is manager of the Washington Post newspaper office in Berlin, Germany. Youngest daughter is working on PhD in Geography at Kansas University and will spend the next academic year in Africafor research. We plan on visiting her next March!
---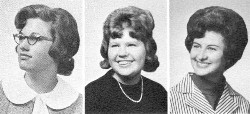 ---
---
---
---
---
---
---
Smith, Carol Hansen (2006)
505 S. Manhattan
Indianapolis, IN 46241
765.244.8555
cjhansen47@sbcglobal.net
Billing Supervisor at Lanter Eye Care in Indianapolis.
I have two grown children: A daughter Cinda who is 39 and the Director of Maternity services at Carmel St. Vincents Hospital, and a son Joe who is 36 and works for Eli Lilly.
I am living with Dale Tryon '65. We have been together for a year and a half now.
I enjoy camping, reading and all kinds of needle work, and Dale and I enjoy our combined 11 grandchildren. We would love to hear from any of our former classmates.
Smith, Connie Zalokar
Deceased, died March 21, 2020.
Smith, Georgette Diallo (sophomore photo) (2002)
Would love to find my old classmate friend Rita Mumford.
---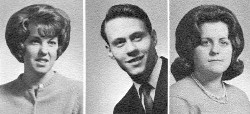 ---
---
---
---
---
---
---
Smith, Karen Lynette (2004)
klynette@mail.ucf.edu
I am an Administrative Assistant to an Associate Dean in the College ofArts and Sciences at the University of Central Florida. I married JimLynette in 1966, divorced in 1990. We had two children, Stacy Marie(born April 1972 - died May 2001 from breast cancer) she gave us threebeautiful granddaughters. My son Travis is 26, married and has a son(Levi) who is three years old. I also have two adopted granddaughters. Moved to Orlando, FL in 1975. I got married May 3, 2003 to Don Lucas. Don is retired from the Orlando Police Department he currently works atthe Navy Exchange as a security officer.
Smith, Leonard K.
Deceased. Died March 14, 2020.
Smith, Linda Rhoton (2017)
1080 Judith Lane
Danville, IN
linda1814@outlook.com
As of May 2004, I have retired after 30 years as the Supervisor of Payroll at the VAMC in Indianapolis.
I have been happily married to my husband, Joe, for almost 39 years now. We have two beautiful daughters, Beth and Kim, who also graduated from BDHS. We have five grandchildren, who range in age from 19 years old down to 1 year old (Jennifer, Tyler, Lauren, Bryan and Brooke).
I enjoy retirement so much and often wonder how in the world I ever worked a full time job all those years, raised a family and kept up with everything.
I enjoy reading the BDHS Bulletin Board every day... keeps me connected... thanks Dan for all your work on this website!
UPDATE - January 17, 2017
I now have two great granddaughters, Savannah and Ashtyn. I have a grandson, Bryan, who received a football scholarship to Franklin College here in Indiana, and currently plays football there.
My husband Joe passed away on December 28th, 2014. We were married almost 50 years and it has been rough for me since losing him after so many years.
---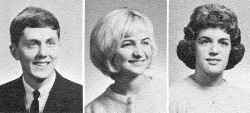 ---
---
---
---
---
---
---
Smith, Nina (2003)
This is her sophomore picture. Did she graduate with our class?

Smith, Neil L.

Smith, Senda Chesley (2005)
3308 Summerfield Dr
Indianapolis, IN 46214
317.299.4162
senda_n_mike@sbcglobal.net
My husband Michael and I have been married for five years now. I have 3 children, 2 step children, and one grandson.
My oldest daughter Davanna, who is 39 has my one grandson. She is on dialysis and will soon be on a kidney transplant list. My son Tony is 34 and is in business with his dad working on restaurant equipment for quite a few of the Indy restaurants .My youngest daughter, Jocelyn is majoring in anthropoloy at IUPUI.
My husband and I owned our semi truck for awhile and had our own business going, but gave it up. He is still driving a big rig for another company.
I've been a paraprofessional in Wayne Township Schools(Sanders, North Wayne, and Chapelwood) for 15 years working with Special Educations Students. Very hard work, but very rewarding.
I wish everyone well and thank you for the fantastic job that you have done with the yearbook and website.
Snowden, Elaine Cope (2005)
5596 Henderson Dr
Brownsburg, IN 46112
317.852.4990
elaine@sbcglobal.com
Bookkeeper for a Brownsburg trophy shop; worked daycare for 13 years. Still working full time.
Married to same person since 1965; two sons, one grandchild.
---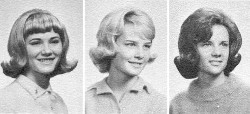 ---
---
---
---
---
---
---
Somes, Virginia Pritt (2006)
3510 Winings Avenue
Indianapolis, IN 46221
317.247.0483
ginnyp2002@aol.com
Married Joe Pritt, March 2002.
Still do some interior design consulting. Gave up the motorcycle for a Miata. Just recently gave up the Miata (old age makes it hard to get in and out of such a small car and to shift those gears). Now I concentrate on my 2 grandchildren and my home. Love gardening, reading and am going to take up oil painting again. I'm living life in the slow lane now, and love it!

Sparks, Georgianna Morris
died about a year after high school, brain cancer
Sparks, Paula Cunningham (2001)
317.298.4510
paula.cunningham@iflyata.com
Recently divorced, lives in a condo on 38th & I465. She still works at ATA. If you call her, be sure to ask her about her new grandaughter!! (this info thanks to Ginny Somes).
---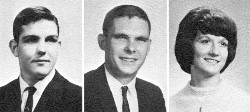 ---
---
---
---
---
---
---
Speaks, Donald R. (2001)
341 N Meridian St
Greenwood, IN 46143
317.888.9643
Retired from General Motors. Loves fishing and hunting.
Speedy, Robert M. (2008)
177 W. JoJo Ln
Nineveh, IN 46164
Married Karen Brown.
Bob works at Methodist Hospital in the maintenance department - thanks to his sister MaDonna for the information.
Spreckelmeyer, Mary Marlin (2003)
Counselor, Greencastle High School
Srader, Jack--see Schrader (Srader is correct; name was misspelled in original yearbook).
---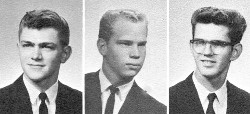 ---
---
---
---
---
---
---
Stallcup, John (Wayne)
Deceased. Died July 23, 2001.
Obituary from the Indianapolis Star:
54, Indianapolis, died July 23. He was a dispatcher 35 years for Citizens Gas & Coke Utility.
Survivors: wife Brenda Robinette Stallcup; children Shelley Northington, Michelle, Tim Earl, Christina O'Leary , Mike Stallcup; mother Florence Robinette; brother Jim Stallcup; seven grandchildren.
Dan Hale adds, "To give you some impressions would be difficult because our dealings were primarily simple and direct. He owned a Toro riding lawnmower that wore belts out on a regular basis.
He'd come in and buy a belt and then he'd go home-simple.
The last time he came in he had his (about three-year-old) granddaughter with him. She was very cute and you could tell she liked being with her grandpa. That says something to me about him.
I knew him at BDHS as Wayne, but when he came in to the store he went by John. Asmall change,but we all have done things like that...."
Stanley, Michael L.
Steele, Robert G.
---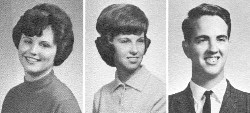 ---
---
---
---
---
---
---


Stevens, Linda Maddox (2001)
1980 Sweetbriar Lane
Rockford, IL 61107
815.395.0749
lkmaddox@msn.com
Newell Rubbermaid, Executive Secretary

Stevens, Priscilla Brown (2000)
6490 Walnut Way Ct
Brownsburg, IN 46112
p_brown@gibraltardesign.com (husband's email)
Bentcils (pencils and pens)
Husband, Paul Brown, is a '64 BDHS grad. Priscilla has three cats and two married children: a daughter, 27, who is a graduate of IUPUI, and a son, 29, who works for Chrysler.
The Browns enjoy traveling, and they have visited Hawaii.

Stevenson, John H.
---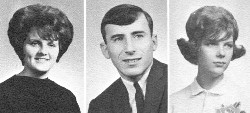 ---
---
---
---
---
---
---
Steward, Kay Farb (2005)
6065 Crooked Creek Dr
Martinsville, IN 46151
317.831.7935
Retired after 33 years at Eli Lilly, Pipefitter.
Married (Phillip), two children, four grandchildren.
Stewart, Roland E. (2000)
This might be him:
1501 S Goodlet Ave
Indianapolis, IN 46241

Stofer, Brenda
Lost; last known address:
718 Ingomar St
Indianapolis, IN 46241
---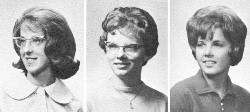 ---
---
---
---
---
---
---
Stout, Carol
Strong, Gloria Taylor (2003)
1112 North Dr
Franklin, IN 46131
317.346.0557
jgtaylor74@juno.com
Works at Anthem in Indianapolis.
Husband Jim
Sullivan, Georgianna Rogers (2001)
7866 Quail Ridge S
Plainfield, IN 46168
317.839.1524
Husband Steve retired, they enjoy travelling with their 5th-wheeeler.
---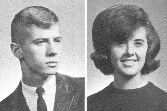 ---
---
---
---
---
---
---
Sumner, Jack (junior photo) (2003)
Swails, Robert
Deceased, died April 26, 2023.
Sykes, James D. (Jim) (2000) (no photo)
P.O.Box 1124
Alamogordo, NM, 88311
Logistics Manager/Hypnotherapist
twowolves@tularosa.net
Jim has his own web site.
Attended Ben Davis for just my senior year; too late for a senior picture. I was on the basketball team and sang in some choral groups.
Sixteen years in broadcasting, doing everything: programming, production, training, management and of course the best part........being a DJ!
Syphers, Myra
A - B - C - DE - F - G - H - JKL - M - NOP - QR - S - TUV - WXYZ
Back to the home page.