A - B - C - DE - F - G - H - JKL - M - NOP - QR - S - TUV - WXYZ
Click here for BDHS '65 Bulletin Board
Back to the home page.
---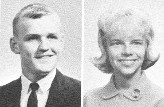 ---
---
---
---
---
---
---
Jackson, Bruce (2000)
2-32-15 Nakanoki
Funabashi, Chiba
JAPAN 274-0826 (Moved to Japan in 1973)
81.474.73.5600 (Phone and fax)
b-jackson@keioplaza.co.jp
Keio Plaza Inter-Continental Tokyo (hotel), Sales Supervisor
FAMILY: Hisae (Japanese wife), Tina (oldest daughter), Jenny (youngest daughter). Tina is in the entertainment business and Jenny works at the American Embassy in Tokyo.
Jennings, Margaret Fahrbach (2001)
575 Shakespeare Dr
Avon, IN 46123
317.272.0969
pfahrbach@msn.com
Teacher, Indpls Public Schools, William Penn School No. 49
Married Phil Fahrbach
Jeffers, Ron (junior picture)
deceased, April 1975
---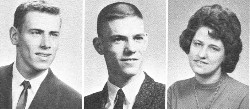 ---
---
---
---
---
---
---
Johnson, Ed (2001)
Retired from Ford.
Joined Air Force after high school, worked as a chef.
Johnson, Jim (2003)
409 S. 23rd St
Richmond, IN 47374
765.962.0153
jimmj46@yahoo.com
Vice President of Purchasing For Workhorse Custom Chassis
Wife's name is Sally.
Johnson, Phyllis
Johnson, Johnny (2003)
This is his sophomore picture; he's not in the junior or senior book. Does anyone know if he completed school at Ben Davis?

---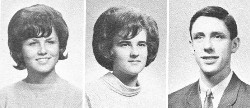 ---
---
---
---
---
---
---
Jones, Barbara Shipman (2006)
3937 Rainbow View Dr
Indianapolis, IN 46221
317.856.2647
curtshipman24@netscape.net
Married to Steve Jones (BDHS '64) for 25 years, married Curt Shipman on October 12, 1991.
Three sons, Scott, Todd, and Craig. Scott passed away on April 9, 2005.
Eight grandchildren (five girls, three boys) age 4 to 21.
Husband Curt is retired from the Army National Guard. Barbara and Scott enjoy fishing, and they have a condo in Orlando.
Jones, Carla (2005)
235 N. 3rd St
Tipp City, OH 45371
937.572.7279
cjones@standardparking.com
I am still in Ohio, single, a grandmother of 6 boys.
Jones, Edward N.
---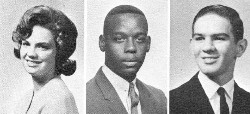 ---
---
---
---
---
---
---
Jones, Janene (2002) Lives out west?
Jones, Michael R.
Jones, Raymond E.
---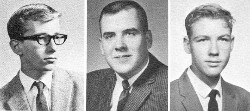 ---
---
---
---
---
---
---
Kaufman, Thomas D. (2008)
6918 Kirkwood Club Drive
Indianapolis, IN 46241
317.856.1634
Keeler, Jim (2007)
Jim is married, 2 kids, living in Boulder, CO
As per his brother Joe, BDHS'66
Keeling, Royce (2004)
58 Thicket Ln
South Beloit, IL 61080-2492
815.389.8072
royce33@aol.com
I am working at GM here in Janesville Wi. I have been with GM for 27 years.
I am married to a wonderful women named Cheryl. Together we have 10 grandchildren.
We are planning on coming to the class reunion in June. This will be my first. Looking forward to seeing some of my old friends.
---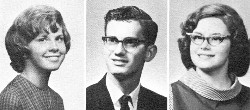 ---
---
---
---
---
---
---
Kelly, Cheryl Neidlinger (That's her on the left) (2002)
6810 Chapel Hill Rd
Indianapolis IN 46214
317.247.5482
dan10428@yahoo.com
Substitute Teacher
Kelso, Thomas

Kibbe, Carole Egly (2002)
4923 Rockville Road
Indianapolis, IN 46224
As per her daughter Sandra
Janet Kimmel (no photo)

King, John (2003)
This is his junior picture. Does anyone know if he finished his senior year with us?
---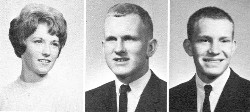 ---
---
---
---
---
---
---
Kinney, Janet Willoughby (2001)
Lost; last known address:
6027 Doverton Dr
Noblesville, IN 46060
Husband John
Kirk, Herschel (2008)
1125 Red Oak Dr
Avon, IN 46123
317.272.9087
Retired--Owned Kirk's Body Shop on Lafayette Road
Kissner, Lawrence R. (2004)
5447 W. Gallagher Dr
Greenwood, IN 46142
317.882.2641
---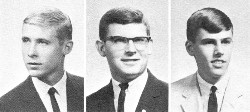 ---
---
---
---
---
---
---
Kleis, Thomas
deceased, Police Officer
killed in the line of duty
(May 1991, in a car chase)
Klenk, William E. 8735 Rohan Ct
Indianapolis , IN
317.293.9110
Knierim, Dennis (2001)
2 Taggart Dr
Mooresville, IN
317.831.4839
rrtz23a@prodigy.net
Dennis is the Mooresville Police Commissioner AND a dentist, and president of the Friends of the Mooresville library.
---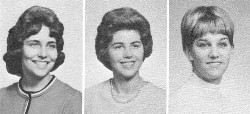 ---
---
---
---
---
---
---
Knight, Jean (Carolyn) Sandy (That's her on the left) (2008)
jspen1124@sbcglobal.net
I retired from the Indiana Dept. of Revenue after 29 years in June of 2005. I trained computer programs and Soft Skills such as EEOC Regulations, Cultural Diversity, and Sexual Harassment. I married Don Spencer (1964 BD Graduate) in June 1965. We have two grown children; a son Don, 40, of Brownsburg, who is President of Levi Engineering in Castleton and a daughter Wendy,36, of Brownsburg. Don has two sons ages 12 and 3 and Wendy has three boys ages 10, 6, and 2 1/2. Don and I divorced in October of 1980 and in 1982 I married John Neal of Avon. After 17 years, we divorced. I was single for about 8 years and in 2005 I married my present husband and best friend Tom Sandy of Cloverdale. We are now enjoying our blended families and 9 grandchildren with #10 due any day.
Koesters, Loraine Smerdel (2003)
1158 Baltustrol Run
Avon, IN 46123
317.272.3804
dadatz@indy.rr.com
Housewife
Married to Joe for 36 years.
Two grown and married children and one fantastic grandson!
Life has me still much on the move and am very grateful for this!!
Kuehne, Roxanna
---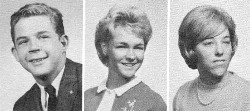 ---
---
---
---
---
---
---
Lambert, Frank R.
Lane, Judy (2003)
thehood1102@aol.com
I would very much enjoy seeing everyone. My husband died last year and my daughter said I should get in touch with my school mates. Please drop me a note!
LaRue, Diane Hauss (2000)
13201 Nottingham Rd
Fishers, IN 46038
317.849.0860
mdhauss@stvincent.org
St. Vincent Hospital, Director of Indigent Care
Divorced 25 years ago, but still keeps her married name. Diane has a 26-year-old son.
---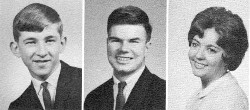 ---
---
---
---
---
---
---
Lashbrook, Jerry
Deceased. Died April 6, 2009.
Jerry wrote in November 2004:
I'm retired from Allisons.
My wife's name is Brenda, and she's from Corydon, Ind. We meet while she was attending IU Medical at Indianapolis and married in 1986. She has two sons, Chris (31) and Wayne (35). They both live in southern Indiana.
My first wife was Sharon Alsman from the class of '66. We were married from 1967 to 1985 and had two kids, David (36) and Heather (30). I have 4 grandkids: Nik (15) plays football & hockey at Center Grove High School, Jacob (13) , Wes (2 1/2), and Shawn (1).
After high school I joined the Navy and worked as a shipfitter.
When I got out of the Navy I started a plumbing business with Dave Benjamin (class of '66). Spent most of the 70's doing plumbing and excavating. We closed up shop and sold our equipment in 1979, when I started working at Allison's as a pipefitter.
I took medical retirement in Nov. 2001 after being diagnosed with Mantel cell lymphoma cancer. I had two treatments. The second was a stem cell transplant, and now I'm doing great and in complete remission.
I've been fishing for tarpon in the Florida Keys (caught a 160 lb. tarpon!), and I've been to Manitoba, Canada 3 times (44" pike!) after my cancer treatments.
I was a member of the Bridgeport Volunteer Fire Dept. for over 15 years.(I'm also a past EMT) in the 70's & 80's
I flew hang gliders in the 70's & 80's all over the US. Flew the mountains, towed behind boats and flew an ultralite powered glider. I hunt, fish, boat, ski and travel over most of the US and I do some international travel too.
Brenda and I enjoy the grandkids, traveling and our home deep in the Morgan County woods on a small lake. We plan on going to the 40 year class reunion if the Good Lord's willing and the creek don't rise.
It is good to read about everyone.
Jerry
Lasher, Robert (That's him on the right) (2005)
7925 E. 49th St
Indianapolis, IN 46226
317.545.3017
indybowl6@sbcglobal.net
Have worked at Community Hospital East, Shipping & Receiving for 29 years.
Married since 1972 to Diann, three children, two grandchildren.
Love to bowl and watch Indiana basketball.
Been to Germany, Rome, and London.
Lathrop, Carolyn
---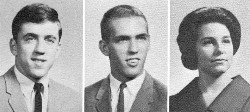 ---
---
---
---
---
---
---
Laughter, Tim (2000)
Tim died on July 15, 1996.

An internet search netted this, from actor Chris Noke:
"My first paying gig was at the Brown County Playhouse. I was cast in I'm Not Rapaport directed by this guy named Tim Laughter (Pronounced "Lawter"). Tim was frustrated with my "subtle" performance of Gilley, the kid who mugs the two old guys. He expressed this frustration in earlier rehearsals, but he finally directed me to "do it this way" and proceeded to perform the role. When he finished, he said with emphasis, "Do it like that!" I did, but I was furious and humiliated.
However, I have to look back and recall what Tim taught me about myself. I like to work with people who inspire me and whom I inspire.
The above is my "worst day" of acting. My best? Same day. Thanks Tim. Rest in peace."

And this came to my mailbox unsolicited:
Tim was a very fine actor and a gentleman and I am sorry to just now learn that he passed away.
I met Tim at Christian Theological Seminary in Indianapolis in early 1978. We were both auditioning for the role of Hamlet at the very fine CTS theatre, and I remember looking at him perform and thinking, wow, this guy is really passionate, just very good, and perhaps I should read for some different part. But I soon learned there was something even more impressive about Tim. You see, I got the part. I played the Hamlet that maybe he should have played.
But he was completely supportive of me during the show and afterward. He really had something to teach about conducting one's self with grace when others are placed before you.
I've thought about this many times since then, and will always remember this man's kindness. Please pass this on to his family and friends if possible.
Dan O'Rourke
Houston TX
North Central HS '73
Law, Ronald E. (That's him on the right) (2002)
RR 2 Box LL-18
Spencer, IN 47460
Retired from Eli Lily, January 2002.
I got married in Sept '65 to Linda Rayles (Brownsburg '65); best thing I ever did!
Uncle Sam wanted me in '66 and gave me that all-expenses-paid trip to Southeast Asia. When I got back in '68 we had our first child, Thomas, who is a contractor and owner of his own home improvements company: "Law Enterprises."
Our second child Rhonda showed up in '70. She's married and living in Westville. I quit drinking the water after that! Rhonda has given us a granddaughter who owns her grandpa whenever she wants something. Her name is Kayla and she is six.
I had a round with cancer in '80, but I beat it. Thanks, cigarettes!
Layton, Linda Pfost (2005)
6704 Walton St
Indianapolis, IN 46241
317.241.9907
Lpfost@aol.com
I've worked for Wayne Township Schools since 1984, now in the Transportation Department as the Computer Routing Secretary.
I have been married to Ron since 1968. We have four sons who graduated from Ben Davis - Paul ('87), Travis ('88), Matt ('90) and Seth ('94), and four grandchildren.
---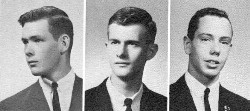 ---
---
---
---
---
---
---
Lazzell, George (Left color photo) (2000)
723 E. Division St
Sparta, WI 54656
608.797.6163 (cell)
georgelazzell@hotmail.com
Self-employed, Computer Support Technician
(That's him on the far left)
Wife Lorraine
I graduated from IU after the Army. After working for General Motors, I began Insurance Adjusting and eventually moved back to Alaska where I had been stationed during the Army. I lived in Fairbanks, Anchorage, and Wasilla for almost 20 years--but traveled extensively throughout most of Alaska. It was awesome!
I'm married with four kids--none at home. Two are in California, one is living in Colorado, and my youngest, Ryan, is a Marine fluent in Serbo-Croatian is now headed for Camp Lejune, NC. We have 3 granddaughters and one grandson.
I returned to Indiana briefly after leaving Alaska in 1993, then lived most of 10 years in Hot Springs South Dakota (while briefly living in South Carolina, Nebraska, Iowa, and Oregon for employment). I have been working at Fort McCoy, WI for the past 2-1/2 years under contract; I just accepted a permanent position here and like it very much. I'm involved in a great church in Onalaska, WI but still maintain http://SHEFchurch.org for my church back in South Dakota.

Lee, Jim (Right color photo) (2002)
9080 N. State Rd 267
Brownsburg, IN 46112
317.852.3854
jlee@mitsco.com
Mitchel & Scott Machine Company
Lee, John (2008)
I got this note from his sister in June 2008:
"John Lee now lives in San Jose, California,. and is married to Linda Dower Lee.  They have 3 daughters and one son (Scott Lee passed away at 27).  They now have one grandson and 3 grandaughters.  I know because I am his sister Jackie Lee class of 1966."
---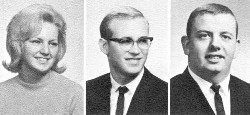 ---
---
---
---
---
---
---
Lee, Sharon Campbell
Deceased. Died December 27, 2018
Lee, Wayne J.
Deceased. Died on August 11, 1998
Lincks, Kenny (2002)
317.831.6945
linxsk@att.net

---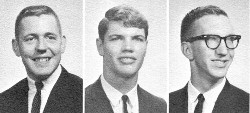 ---
---
---
---
---
---
---
Lincks, Emmett S.
2276 Rolling Oak Dr
Indianapolis, IN
317.244.6094

Lineback, Jim
Deceased. Jim died October 30, 2001, after a long illness.
In addition to being a bricklayer, Jim did all the fancy work on the rocks and limestone at places like the Indianapolis Zoo and the Arts garden in Indianapolis.
He was an avid bass fisherman, and he had a lot at Heritage Lake.
Linn, Michael (2006)
8452 Gardens Circle
Sarasota, FL 34243
941.650.8773
sarasota.santa@gmail.com
(That's him on the far right above, next to his senior photo)
I am the QA Lab Tech for Wellcraft Marine in Sarasota. I spend a lot of time watching my 3 granddaughters playing softball and I am starting a home based business making toys and doll houses for sale on the internet on a yet-to-be-completed website, http://SantaTheToymaker.com.
---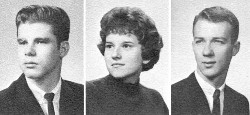 ---
---
---
---
---
---
---
Livingston, Terry L.
Lockaby, Linda Bernat (That's her on the left, too) (2003)
321 Fairhaven
Wichita, KS 67209
lindabernat@yahoo.com
Real estate
My husband of 35 years and I have a son & daughter and 5 grandchildren ranging from ages 3 to 15. Chet is a professional photographer and I am selling real estate. I was a Administrative Assistant for one of the large hospitals in Wichita for 12 years before jumping into real estate. Best thing I've done in awhile.
My mother passed away in October after a long illness that kept me very busy. We are soccer and dance grandparents, have a photography studio in our home, help in our daughter's business, have a greenhouse, have an ebay business that we go antiquing and junking for and babysit quite a bit for the grandchildren. Other than that we have nothing much to do!
Long, Billie (no picture) (2005)
5218 W. Miller
Indianapolis, IN 46241
317.247.8980
Wife Linda (BDHS '67).
Retired from Allison Transmission after 33 years.
"I married my high school sweetheart, and we just celebrated our 37th anniversary. Two children, Greg and Jill, and they each have one child (Wyatt, 4, and Phillip, 7).
I enjoy model railroading, traveling, and tinkering around the house."
Got this note from his daughter: "My dad graduated in 1965 I don't believe that he is in the yearbook. That might be the reason for some of the confusion in not being able to identify him . My dad never had pictures taken that would be in the yearbook. His name is Billie G Long he is known as Bill Long to friends and family... He told me most of his Education focused in Industrial Arts area . We played in a band with his brother and 2 others they were called " The Coast In Longs" He played alot of weekends at the Firehouse dances on west side at firehouse off of Raymond street ( I think that is the street). It was so neat to see the pic of the yearbook and class ring on the website I have seen the 1965 yearbook many a time with my mom's year books and that class ring looks mighty familiar as well!!! My Mom and Dad also still have the senior cords too!! It was neat to see the senior cords on the website !!! That is one tradition I wish could have stuck They are so cool !!!
Lopossa, Jim (1995)
2322 Goldcreek
Mooresville, IN 46158
317.996.3056
logcabin1@ccrtc.com
Indianapolis Police Dept, K-9 Officer
Logston, James (sophomore picture) (1985)
2015 Elizaville Rd
Lebanon, IN 46052
Construction
---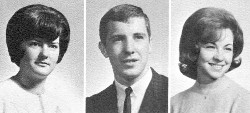 ---
---
---
---
---
---
---
Lowery, Judith
Lowery, Gary W.
From the Indianapolis Star, Sept 23, 2003:
Gary Wayne Lowry, 56, Indianapolis, died Sept. 21, 2003. He worked 26 years for Roll Royce as a Senior Quality Analyst. Mr. Lowry served in the Air Force. Memorial contributions may be made to the American Cancer Society or American Kidney Foundation.
Survivors include wife Barbara Adams Lowry; sons Kurt Nager and Michael Irwin; daughter Kelly Anderson; step-son Tom Landers; step-daughters Terri Leonard, Susan Wilie, Mary Steinsberger; brother Frank Lowry; sister Wanda Redelman; mother Lenora McEvoy; four grandchildren; three step-grandchildren; one great-stepgrandchild.
From Diana Cooper Huntley:
I dated Gary Lowry a few times the summer between my Junior & Senior Year at BDHS...we got together at the Wed nite Westlake dances...He always loved the Supreme's song "Baby Love".... we would all do the old "Circle Dances" back then and when they played that particular song he would always find me and we would dance to it!!! He drove his mother's cool black Pontiac on our dates and was a real fun guy. He was a neighbor and friend of my best friend at BDHS - "Susie German McKay" who kind of played match maker... He was a real nice guy, fun, laughed a lot and was a great B-Ball player. I saw him at our 30th HS reunion when I came back home to Indy...was glad to see him again and am so sorry to hear of his untimely passing. My thoughts and prayers are with his family.
Luebbert, Barbara Ross (2001)
1541 Aubert St
Plainfield, IN 46168
317.839.3407
rossanco@iquest.net
Senior Buyer at Allison Transmission. Husband Larry & I will celebrate our 36th wedding anniversary in July, 2001. Also have my own craft and jewelry making business," Ross And Company". Planning on retiring in next 5 years, and pursuing my outside interests.
---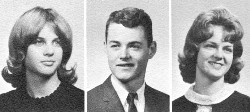 ---
---
---
---
---
---
---
Lucas, Peggy (2006)
Denise Hopwood tells us that Peggy is living in Atlanta, married to a lawyer. She has two kids, a boy named Lucas and a girl (name unknown), and that much earlier she was married to Don Gummer, who is now married to Meryl Streep.
Lynette, Jimmy C. (2002)
9560 Lake Douglas Place
Orlando, FL 32817
Married Karen Smith, divorced
Lynn, Sherron Ingalls (2006)
4929 W. Beecher St
Indianapolis, IN 4621
317.241.3381
A - B - C - DE - F - G - H - JKL - M - NOP - QR - S - TUV - WXYZ
Back to the home page.