A - B - C - DE - F - G - H - JKL - M - NOP - QR - S - TUV - WXYZ
Click here for BDHS '65 Bulletin Board
Back to the home page.
---

---
---
---
---
---
---
---
Tackett, Larry (junior picture)
deceased
Larry died of pneumonia brought on by complications of diabetes on July 10, 2007. He wrote this about himself in 2003:
Am now in Orlando, just retired from teaching in Valencia Community College's Department of Visual & Performing Arts. VCC is a huge community college with five different campuses in the 'Land of Mickey' area.
I left Syracuse in '88 to enter the SUNY system: State University of New York & to travel professionally as a director, and travel I did.
Spent most of yesterday morning going through the webpage just "remembering" and trying to figure out where ALL that time had gone. (A very fitting tribute in many ways......) Hindsight is supposed to be 20/20? Unfortunately, I think I was blinded by it.
Discovering how many died in Vietnam or from natural causes really devastated me. We were supposed to be immortal, right? All of these people are supposed to be a part of my baggage for life.
Irony: it took technology to re-introduce myself to ol' friends. Like most folks, I just got so busy with STUFF. I don't regret what I did, as I'm one of the luckiest folks I know, I happen to be doing what I LOVE. Every semester I remind my students of that. They look at me stunned, but as the semester rolls along I think they begin to believe my CREDO. And BDHS was part of that miracle.
In my innocence, I stumbled upon what I wanted to do, thanks to the likes of Geraldine Miller, Bob Hughes and many other fine educators at BDHS.

Taylor, (Meredith) Duffy (2006)
1610 Pierce Ave
Oxford, MS 38655
662.236.1673
duffymckinney@bellsouth.net

---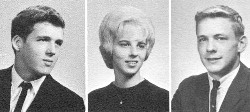 ---
---
---
---
---
---
---
Terhune, Conard (2006)
1499 W Gordon Rd
Mooresville, IN 46158
317.996.3396
cterhune@ccrtc.com
After the Navy I went back to AT&T, I just retired on 7-30-99 after 33 years. I am married, my wife's name is Sheila. I have 2 children, Conard E. Terhune III and Michelle Mayfield. My son has a daughter, born the day before I retired. Sheila has 3 children, Bryan, Jamie and Alan. She works at Ameritech.
Tewell, Frankie McCahan
deceased
Frankie died of a heart attack in the spring of 2002.
Thomas, Jack E. (2007) (That's him on the right, too)
Terra Ceia, FL
jackkim@gte.net
67-69 US Army got out at Ft Belvoir VA, 69-73 Navy Comptroller's office in Rosslyn VA., 73-79 Tymshare Inc, 79-87 Had my own computer company (i.e. a beltway bandit) in Falls Church VA. 87 Moved to Bradenton Florida. 89-01 Software Consultant, 01-Present Verizon as Business Systems Architect. Ran into Carolyn Heath and Jerry Chitwood after first moving to Florida. Both were in Sarasota. Married to Kim, a real Florida Cracker, in 1995. Now live in Terra Ceia, Fl.
---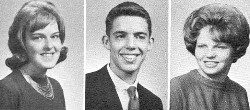 ---
---
---
---
---
---
---
Thompson, Diana Hicks McQuilling
Died January 23, 1997 (cancer)
Thompson, Joel A. Jr.
Thompson, Shirley Johnson (2003)
57 Congress
Heritage Lake, IN 46121
317.386.2849
Speedway Motel
(From Fayrene Smith:) You can probably reach her through her brother Darrell Thompson (BDHS '64), Darrell's Alignment 317.244.3181
---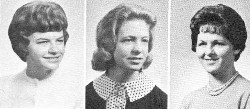 ---
---
---
---
---
---
---
Tigner, Janet Farnsley (2000)
11980 Civic Circle
Mooresville, IN 46158
317.834.3594
dd777@reliable-net.net
School secretary, Brooklyn Elementary
After graduation Janet worked for Indiana Bell Telephone for 2 ˝ years.
In 1968 married Chuck Farnsley and moved to Rhode Island where he was serving in the Navy. Jan and Chuck will celebrate their 37th anniversary in March.
After being a stay-at-home mom for four years she worked at a daycare center and for the Decatur and Martinsville school systems before retiring in 2002.
She and Chuck have three grown children – Christopher 34, Michelle 32, Stacey 30 and 4 grandchildren – Leah 4 ˝, Charlie 3, Kyan 5 months and Luke 7 months.
After retiring, she and Chuck have spent a winter in Florida (can't be away from grandchildren that long), traveled east, west and south and now she just stays home enjoying grandchildren and not getting up to an alarm clock.
Tillotson, Linda
Tomlin, Sharon Greenlee (2002)
PO Box 22
Bridgeton, IN 47836
765.548.2834
Retired from Hamilton Center, Secretary to the Medical Director
Married 37 years, one daughter, one granddaughter (12 years old) who lives just down the street.
Enjoys arts and crafts and bowling (high game 240!)
---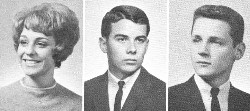 ---
---
---
---
---
---
---
Trackwell, Nancy
Trent, Alan (1995)
Lost; last known address:
1318 Bluebird Dr
Greenfield, IN 46140
Caterpillar Logistics Services, Manager
Triplett, Richard L. (2007)
317.334.0094
rville9755@aol.com

---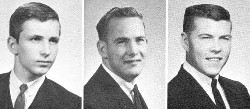 ---
---
---
---
---
---
---
Trygg, Jeff (2001)
1246 W Furry Rd
New Palestine, IN 46163
317.861.6166
Works at Navistar
Tryon, Dale (That's him on the right, too) (2005)
505 Manhattan Ave
Indianapolis, IN 46241
317.244.8555
dale_tryon@sbcglobal.net
I spent 37 1/2 years with Chrysler and retired as a pipefitter doing HVAC work on October 31, 2002.
My wife passed away on January 14, 2005 from cancer. We were married for almost 35 years. We had four kids, two girls and two boy. The first boy died within hours of being born, but we have three living children two girls and one boy.
The oldest girl has three girls, two of which are twins, the second girl has two boys, and our son has not started to have children at this writing.
Tudor, Tracy
Married Dodie Napier
---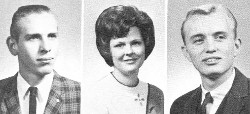 ---
---
---
---
---
---
---
Turner, Paul
Deceased, died April 21, 2012
Obituary: https://www.legacy.com/obituaries/name/paul-turner-obituary?pid=178804037
Turpin, Evelyn Johnson (2001)
1749 Esther Ct
Plainfield, IN 46168
317.839.2075
suzyq4791@aol.com
Retired from Eli Lilly
Loves to hit the casino boats!
Married James Johnson, divorced after 33 years
Tyner, Thomas S.
Lost; possible former address:
P.O. Box 51
Bethel, MN 55005
---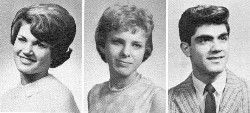 ---
---
---
---
---
---
---
Uffman, Sandy Hughes (1985)
Lost; last known address:
RR1, Box 255-72
Pittsboro, IN 46167
Housewife
Underwood, Carolyn
Villegas, Robert (2008)
1242 Priority Pl
Indianapolis, IN 46224
317.881.3826
rville9755@aol.com
http://www.insmkt.com
Vincent, Stephen (that's his junior picture) 2002
From Mark Erhman: "Met Steve Vincent last year at an Indianapolis Indians game. He was a friend of my cousin. He told me then that he was a 1965 graduate of Ben Davis but his picture didn't appear in the yearbook.
I don't know his exact title but he is some kind of big shot Engineer with Methodist (Clarian) Hospital and is in charge of getting the MONORAIL moving from Methodist to IU Hospital.
There was an article in the Indianapolis Star back in the summer about this project and Steve."
A - B - C - DE - F - G - H - JKL - M - NOP - QR - S - TUV - WXYZ
Back to the home page.