Maple Grove Seventh Grade, courtesy Susan Brinkley Watkins: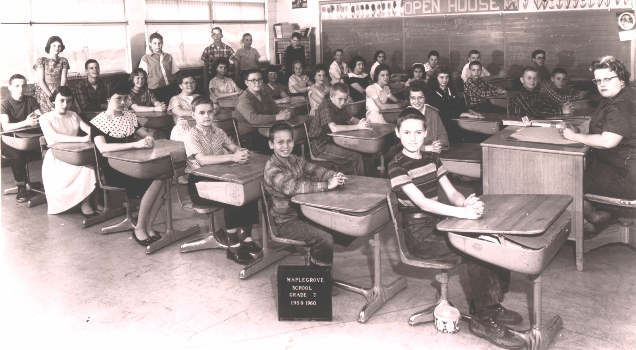 (Larger pictures at bottom of this page--scroll down)

Front row (front to back):
Jerry Cunningham
Danny Smith
?
Myra Syphers
Vicki Payne
Cecil Barker?

Second row:
Miss Warren?
Becky Ellis?
?
Phil Rollins
Mary Beth Sheppard
Caren Ritenour
(?) Tanner

Third row:
O.C. Hope
Connie Wand
Susan Brinkley
Karen Smith
Kathy MacIntyre
Claudette ?

Fourth row:
Earl Matthews
Chis Macey
Brenda ?
Darlene Lowe
(?) Runyan

Back Row (by chalk board:
Samuel Downs
Ralph Givens
David Moore
Lois (?)
Gene Kriner

Standing across back of room (left to right):
?
Jeff LaMar
David Crawley
Paul Turner
?