Maywood Elementary School, eighth grade, 1960-61, courtesy Bob Wittenmyer.
Please email me (danhughes@juno.com) if you can identify any of the unknown youngsters.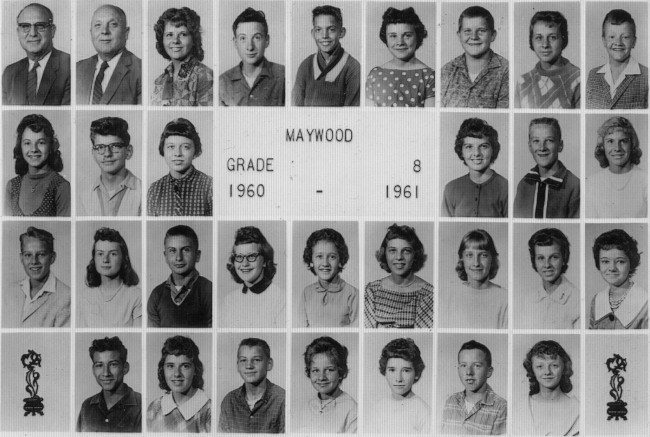 Top Row: Mr. Jenkins / Principal, Mr. Miller / Math teacher, Peggy Meadows, Red Miller, Joel Thompson, Donna Parrot, Jack Scanlan, maybe Deanna Vibbert, Jerry Featherston.
Second Row: Mary Bastin, Bob Wittenmyer, Della Ross, Suzanna Bowman, Jon Bath, Saundra Howard
Third Row: Ronnie Gilliam, Connie Wand, Ed Glass, Suzy Ritter, Mary Pendleton, Cindy Walton, Shirley Groseclose, Priscilla Stevens, Jo Anne Archer.
Bottom Row: ?, ?, ?, Diana Cooper, Janet Kinney, Dave Parlett, ?